The Rockwell Eco Shave Kit | Plastic-Free July Special

Regular price

$ 150.00 USD

Regular price

Sale price

$ 150.00 USD

Unit price

per

Sale

Sold out
Regular price
$ 150.00 USD
Regular price
Sale price
$ 150.00 USD
Unit price
per
Sale
Sold out
The 15 for 5 SPECIAL!
Plastic Free July is a global movement that is driven by the idea that a small change will collectively make a massive difference to our communities. This year, we at Rockwell Razors, are taking this one step further.
Buy a Rockwell Razors Eco Kit at 15% OFF and we will safely dispose of 5 ocean bound plastic razors. 
Take a stand against disposable plastic razors. Go ECO with our 2-year eco-shave kit today and accelerate the shift towards a circular economy!

Ships with:

1 Rockwell Adjustable Razor - The best shave tech on the planet
100 Fully Recyclable Stainless Steel blades - Your 2-year supply of recyclable blades
4 Rockwell Barbershop Shave Soap - 2 years of natural shave soap to keep you skin taut and fresh
1 Wooden Shaving Bowl - Fully recyclable, eco-friendly bowl to whip up a fantastic lather
2 Rockwell Blade Safes - A safe, convenient way to dispose of used double-edge razor blades
1 Cruelty-Free Shaving Brush - Exceptional soft bristles with acrylic handle and no animal-derived components – the best tool to whip up a lather
Sign the Ban Disposable Razors petition to get an additional $20 OFF. Sign here.
Share
View full details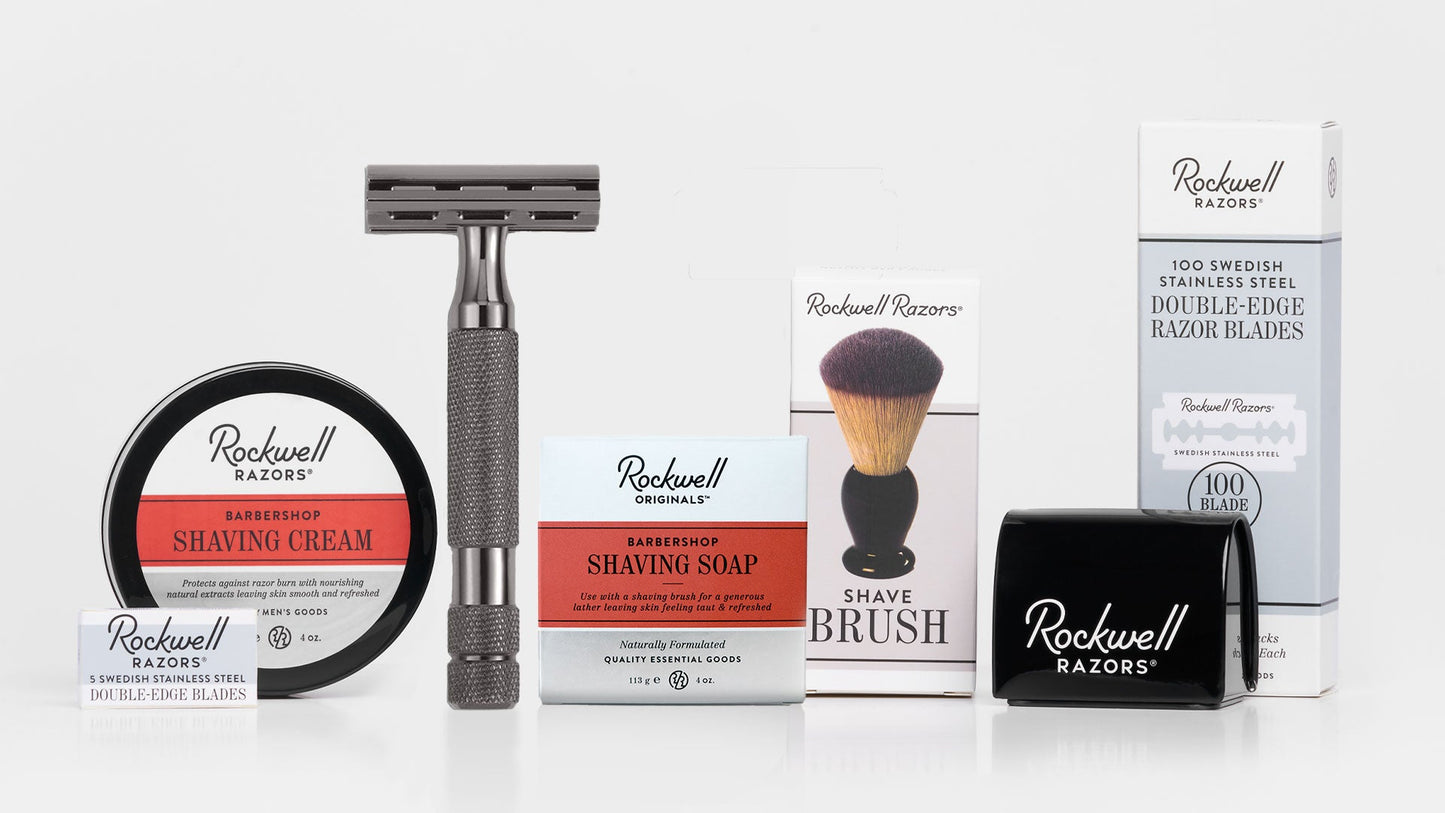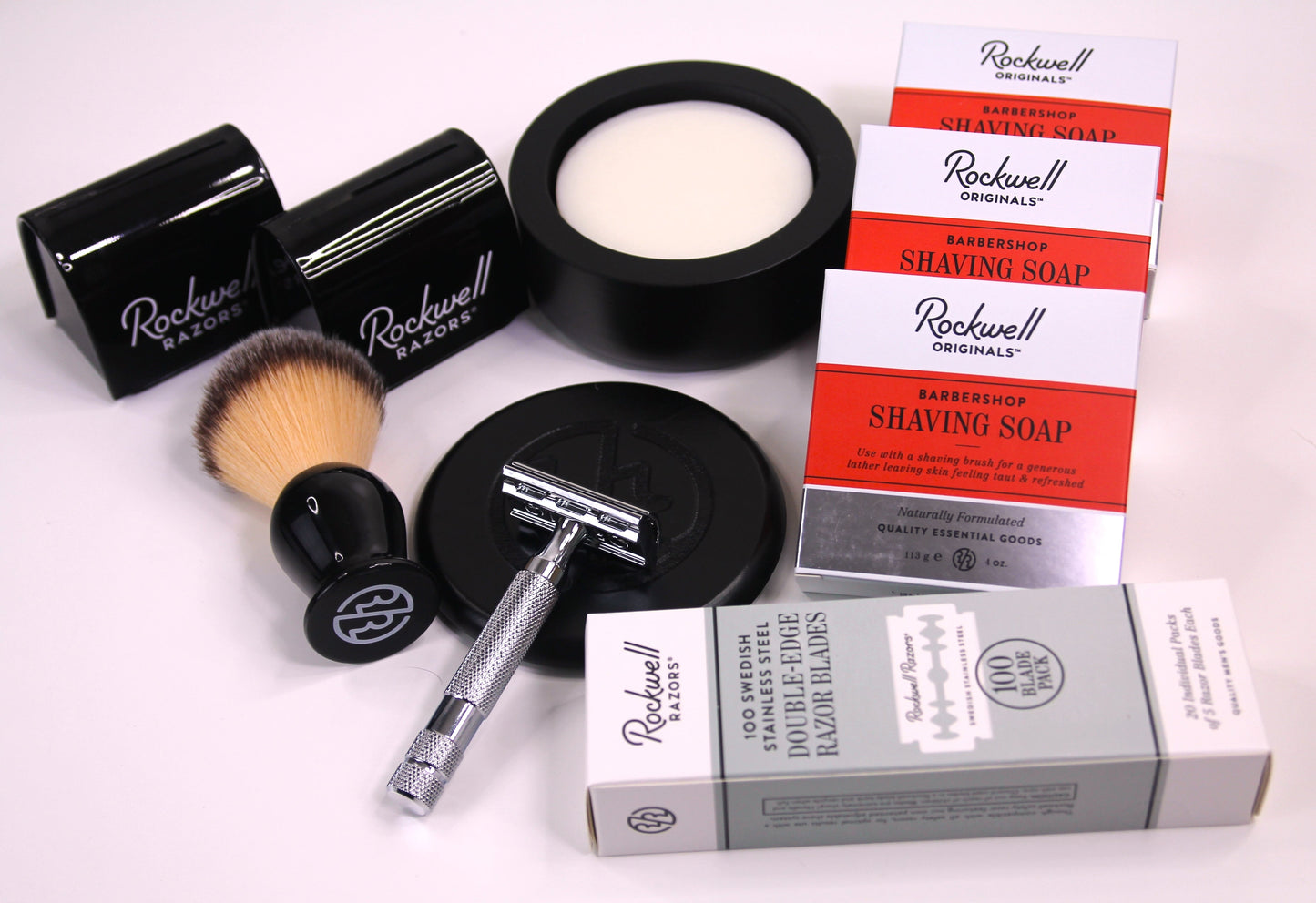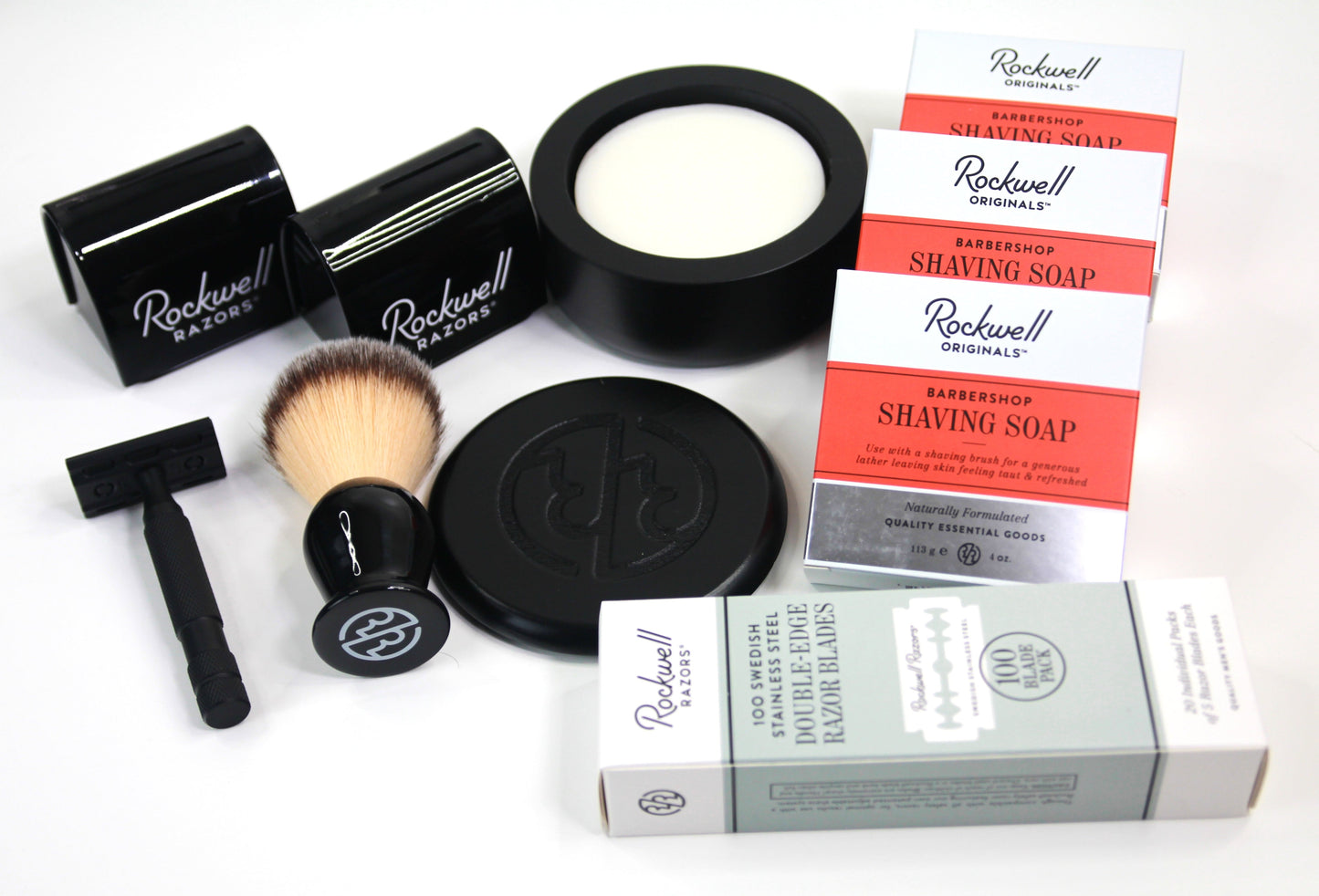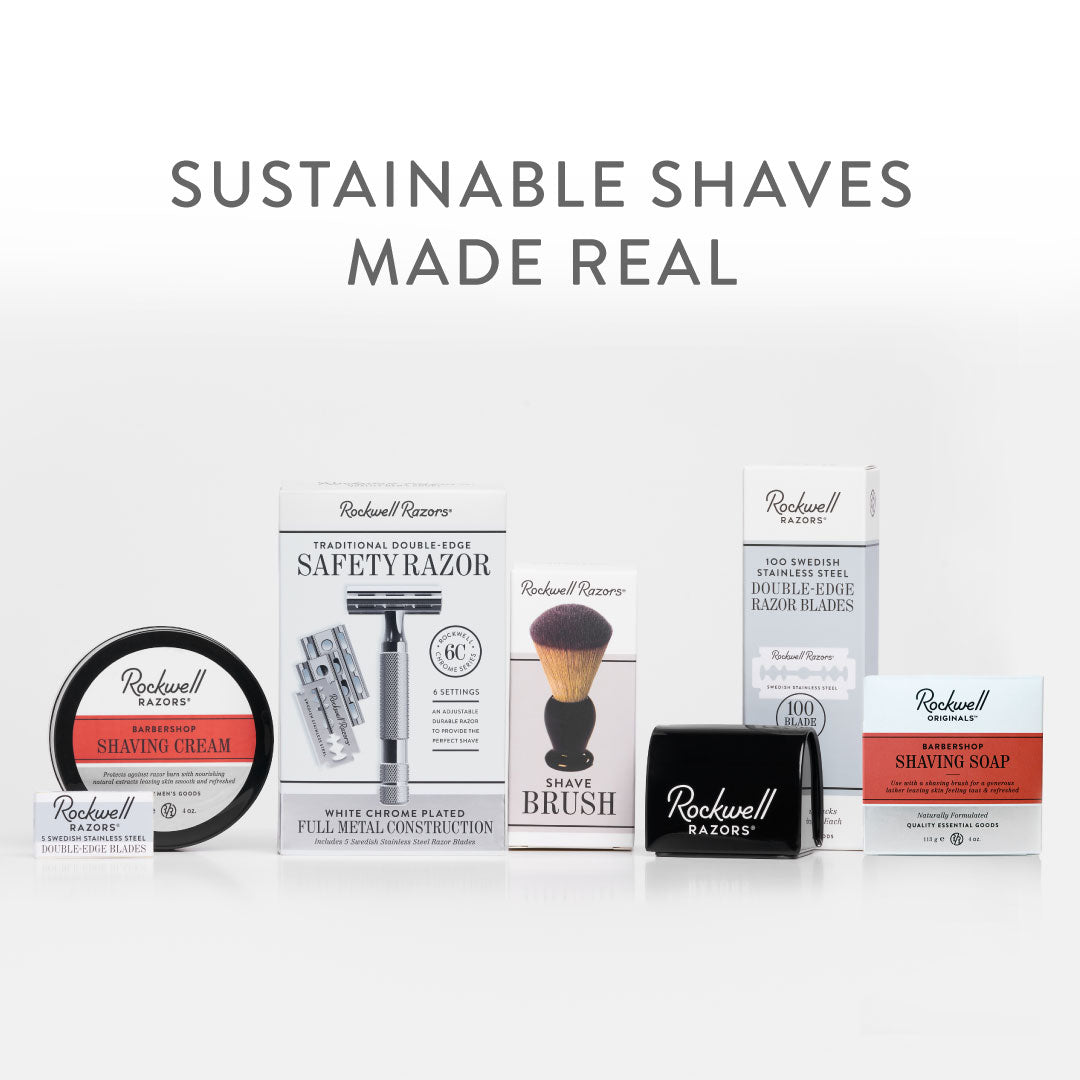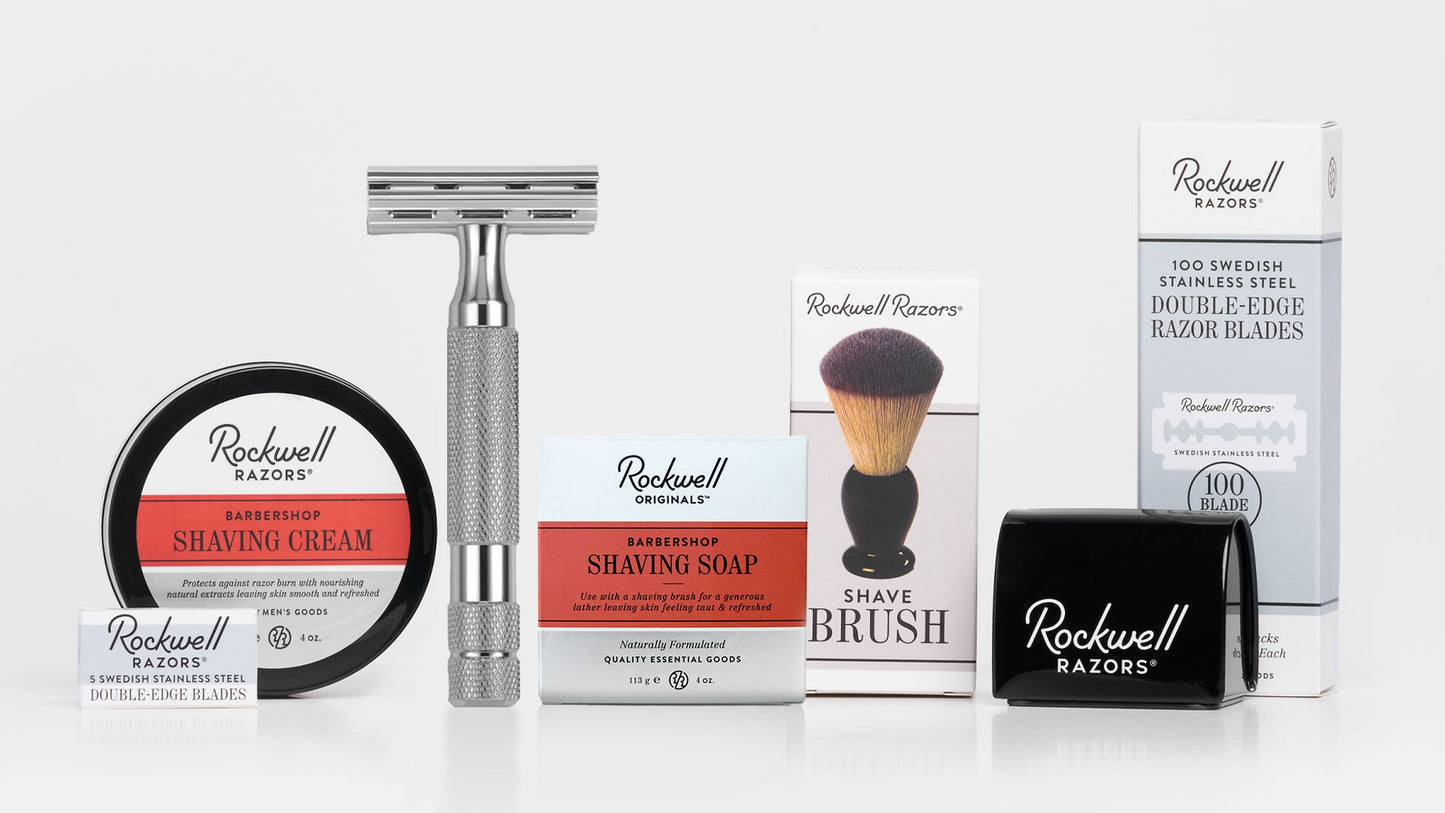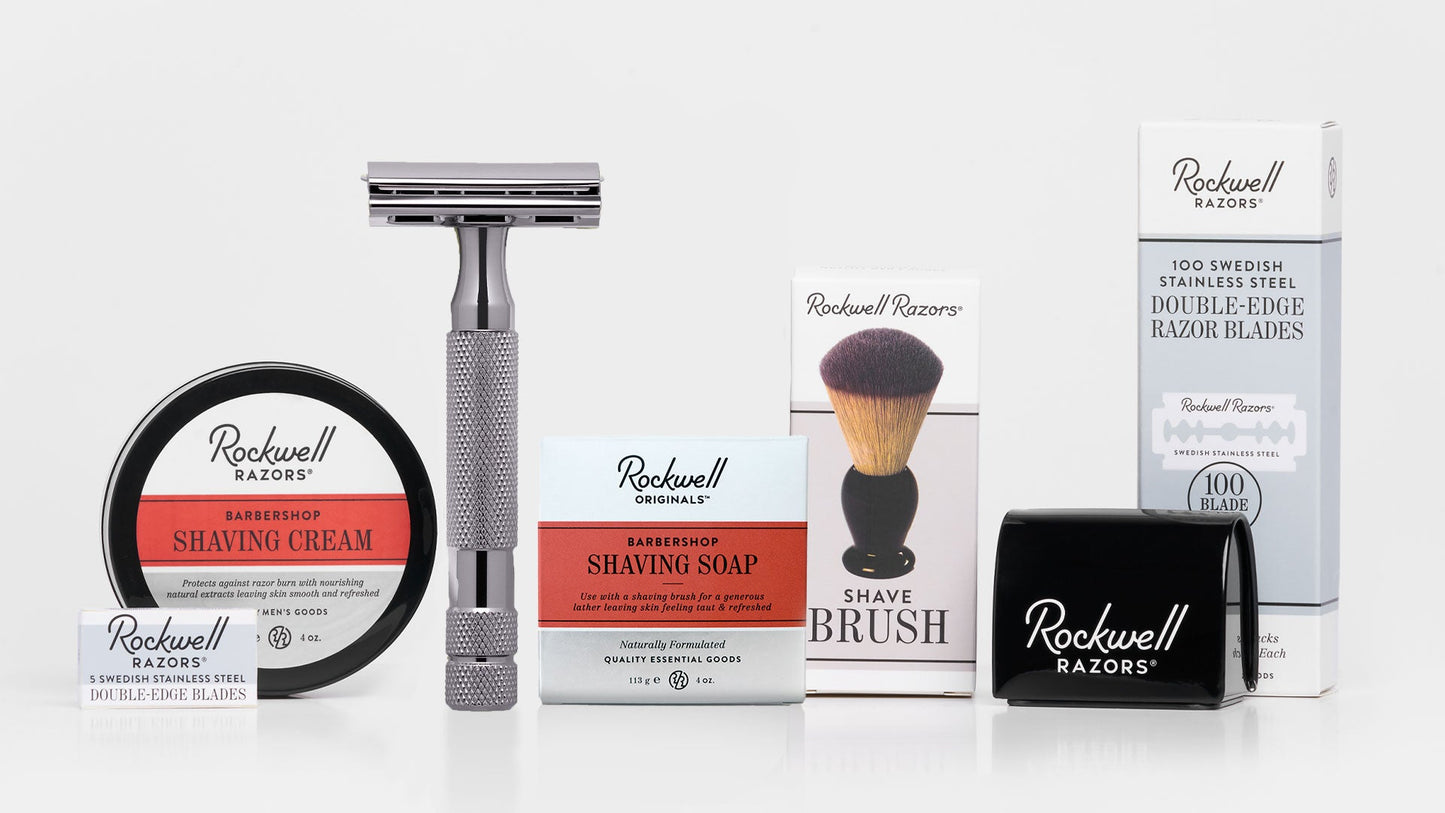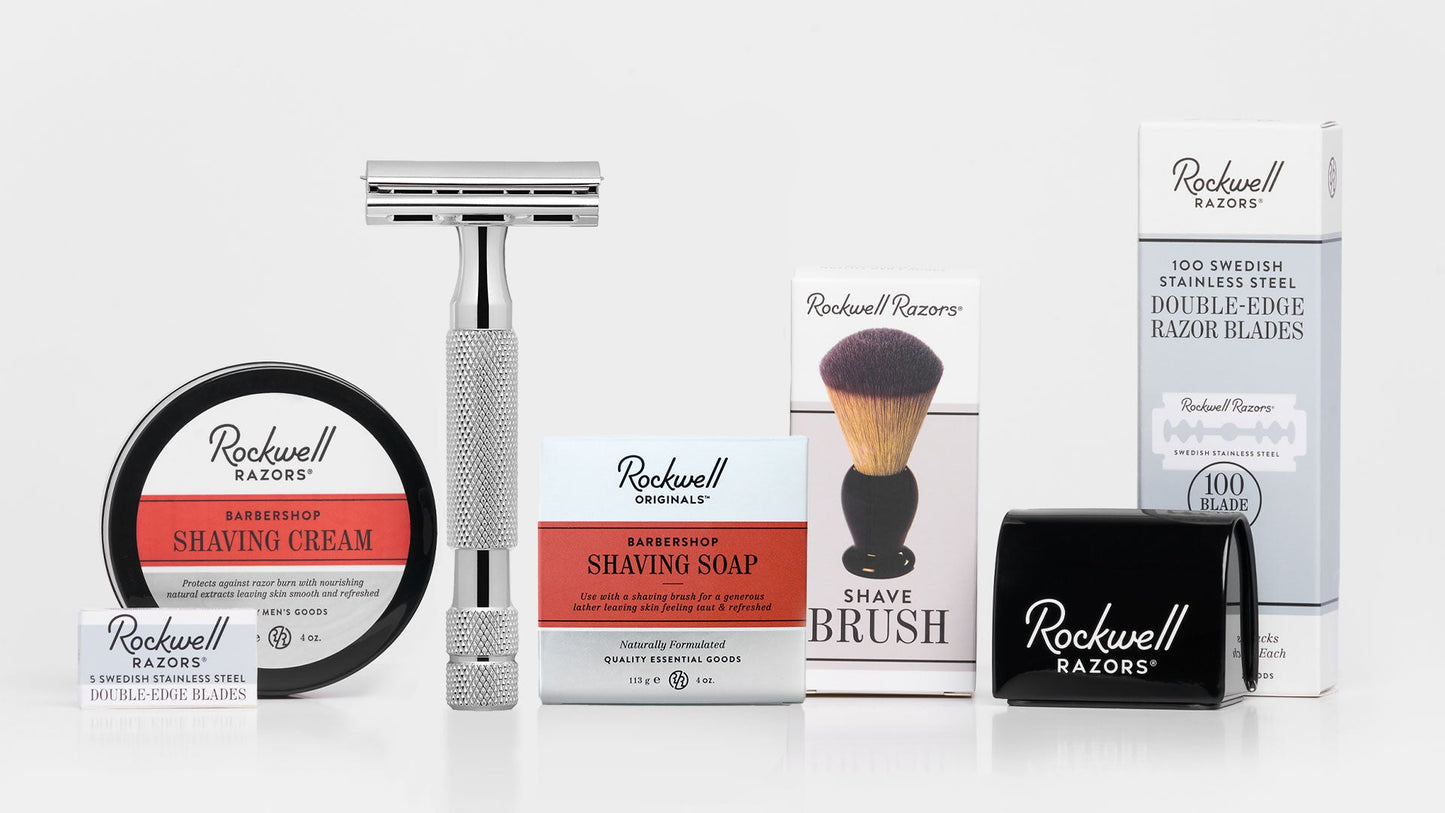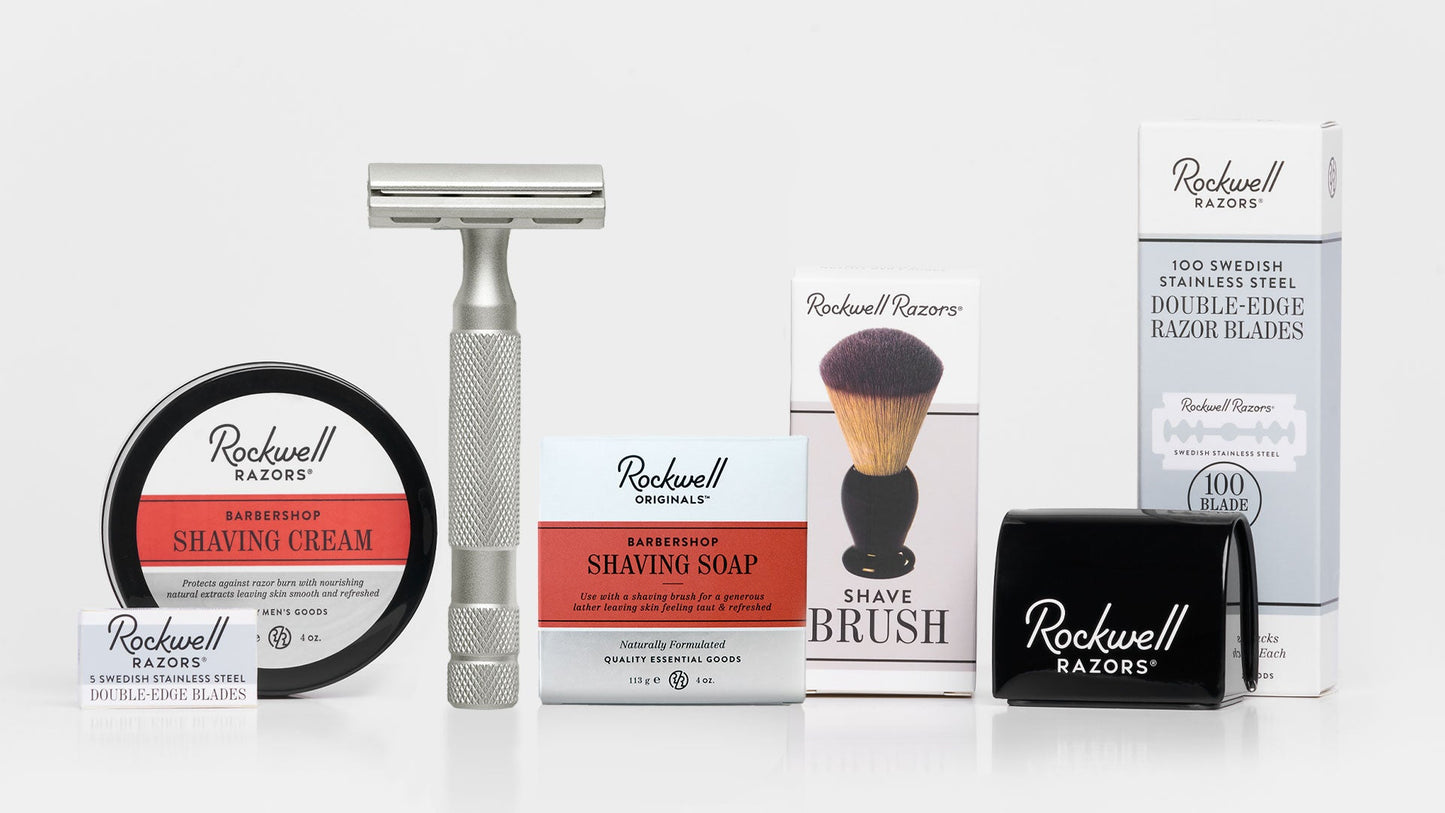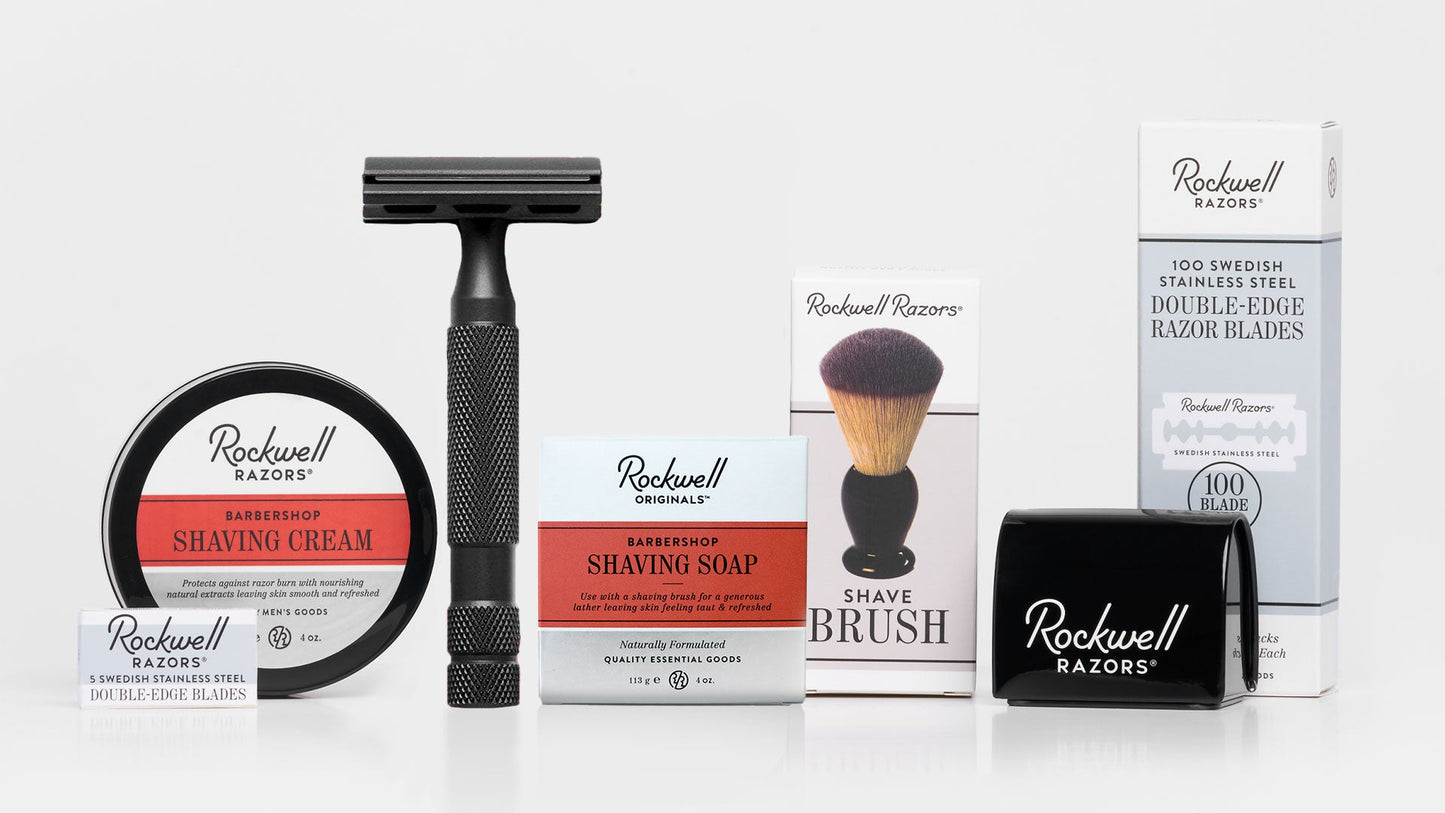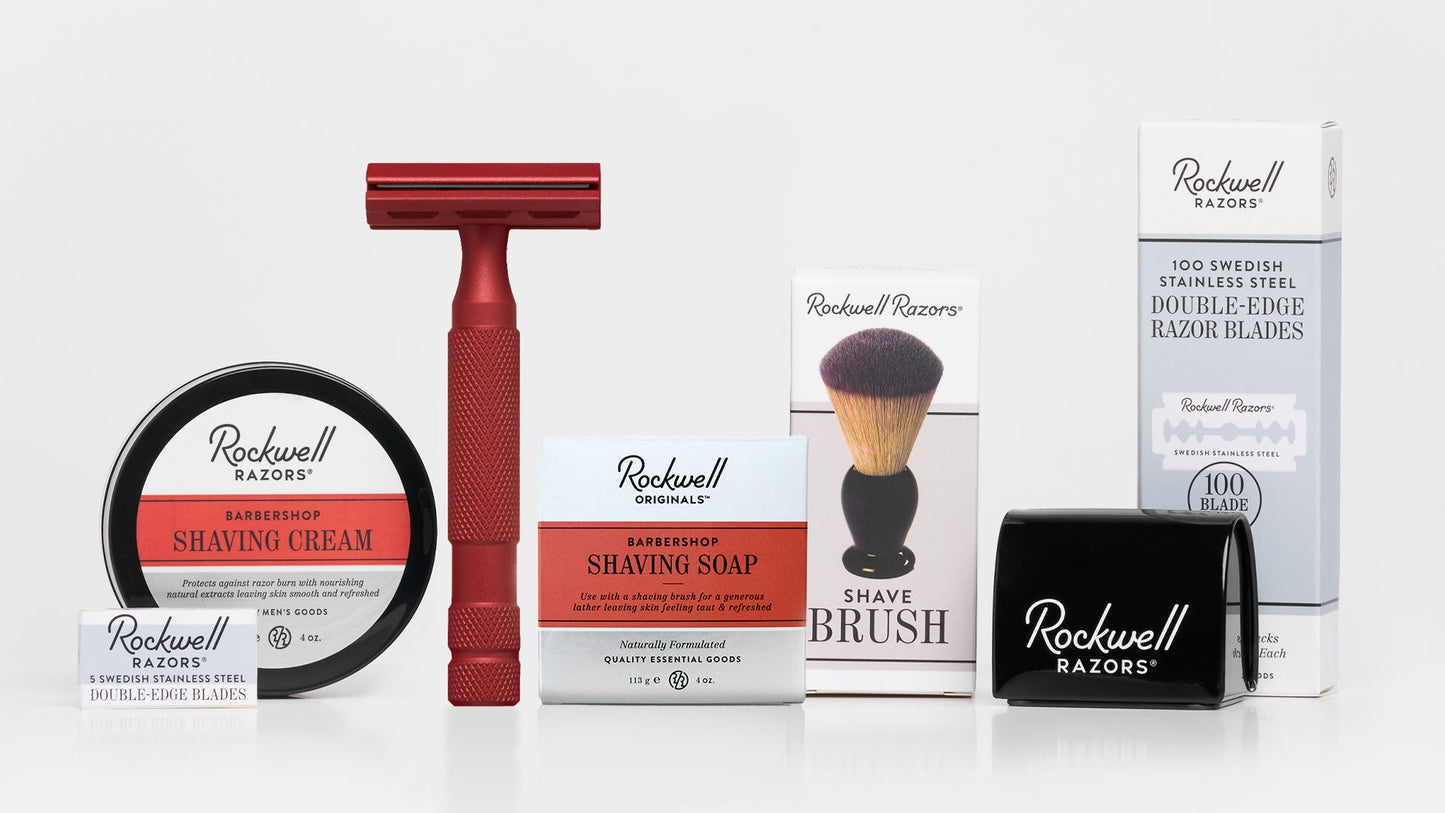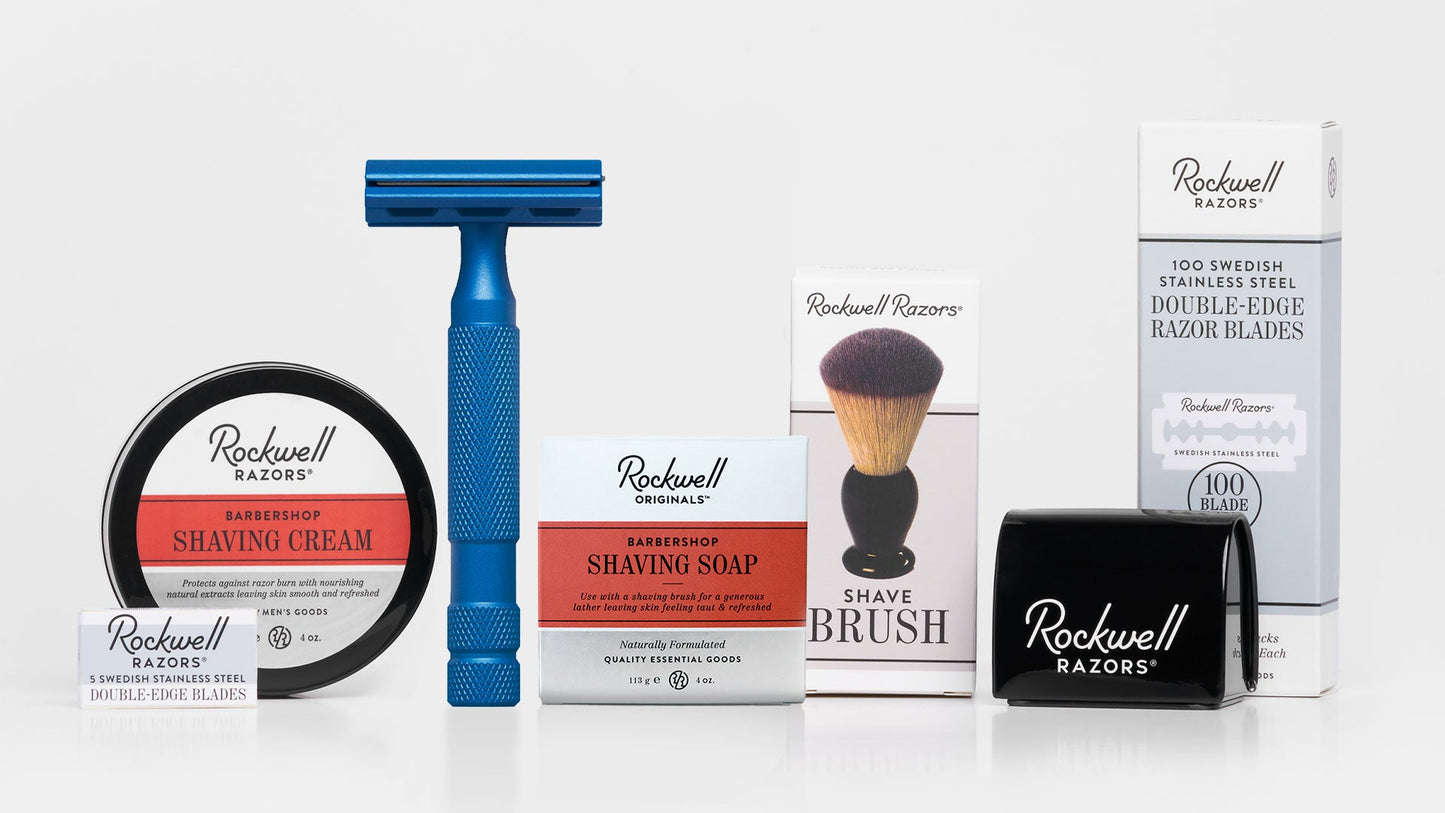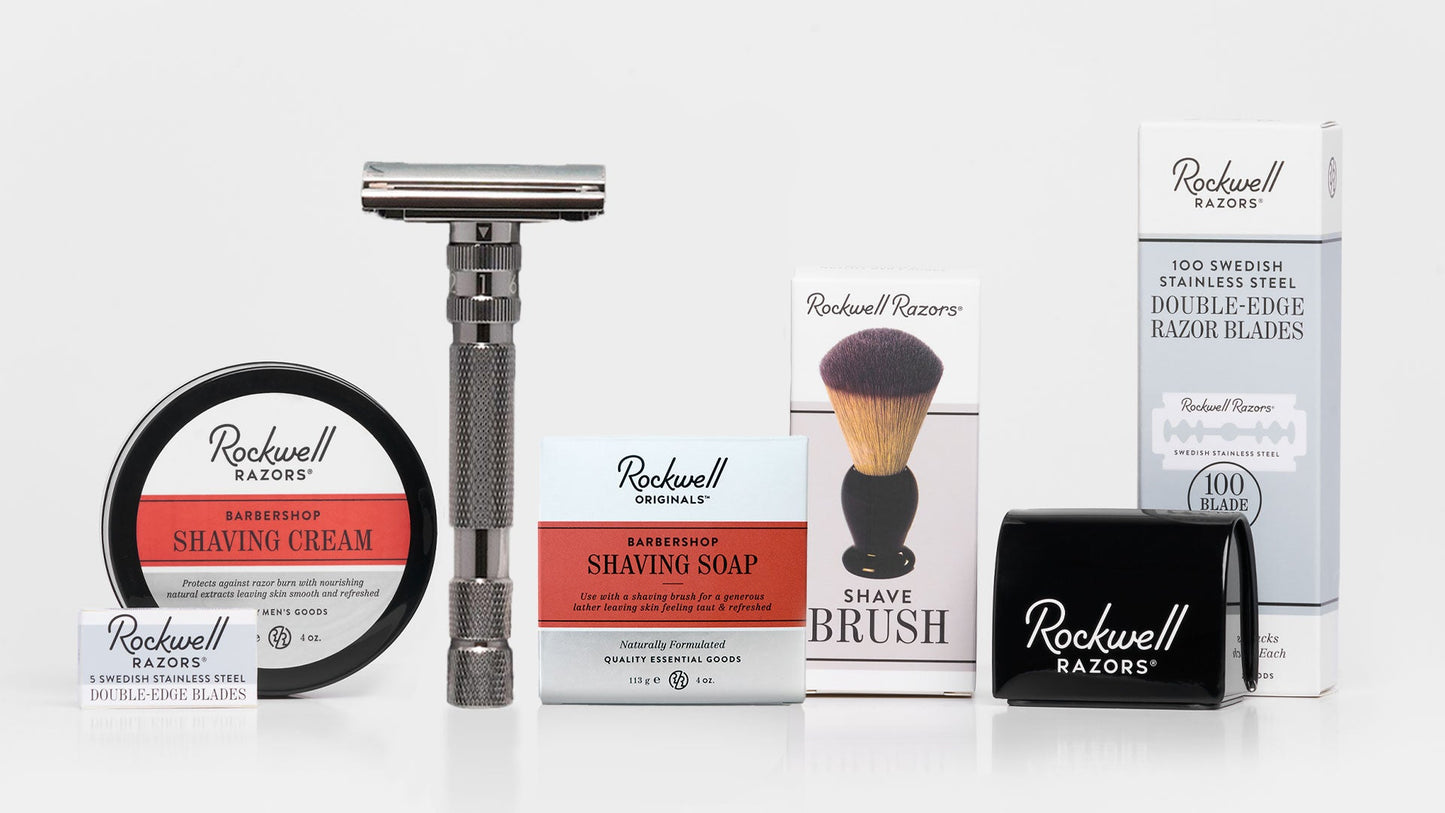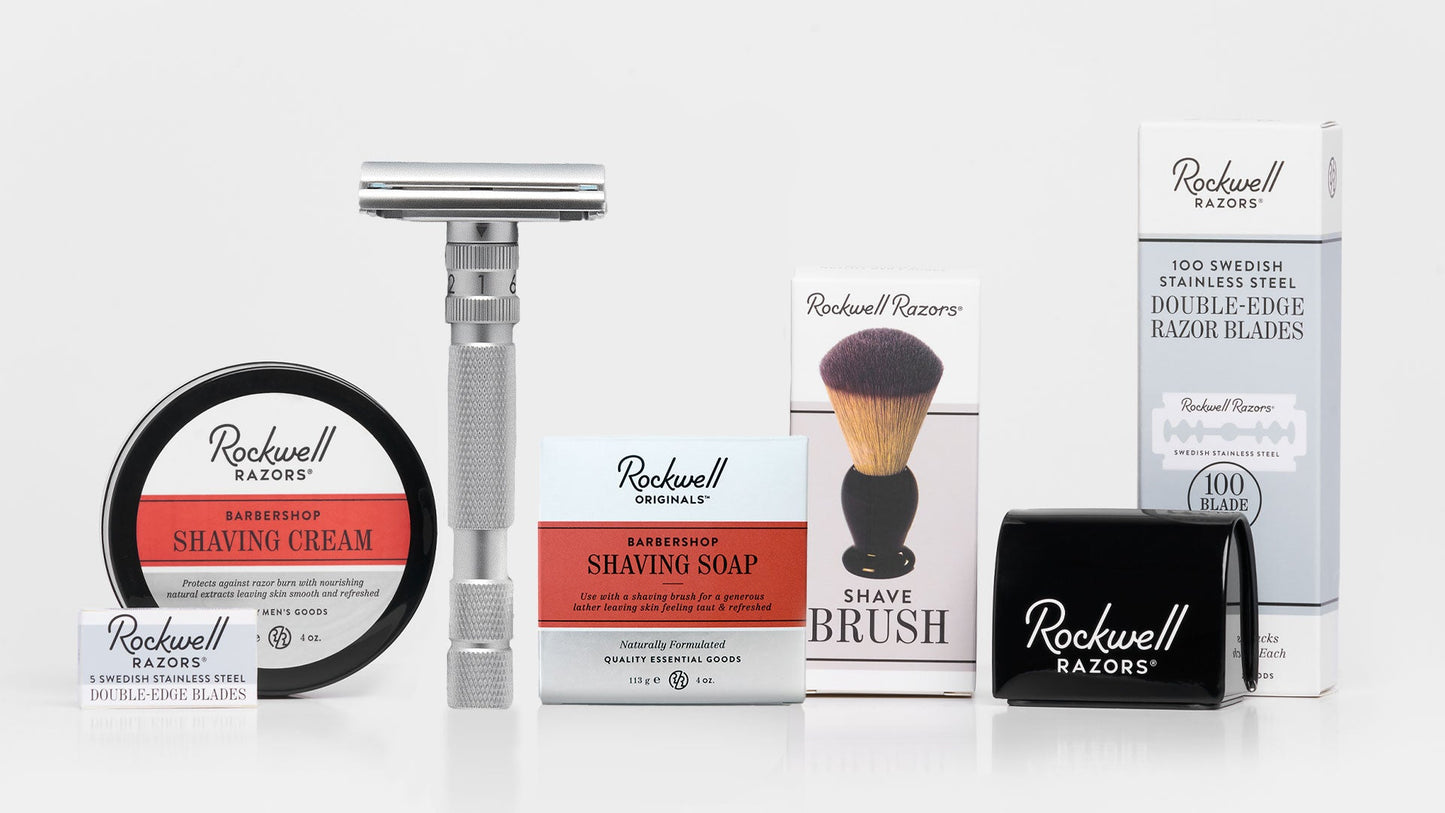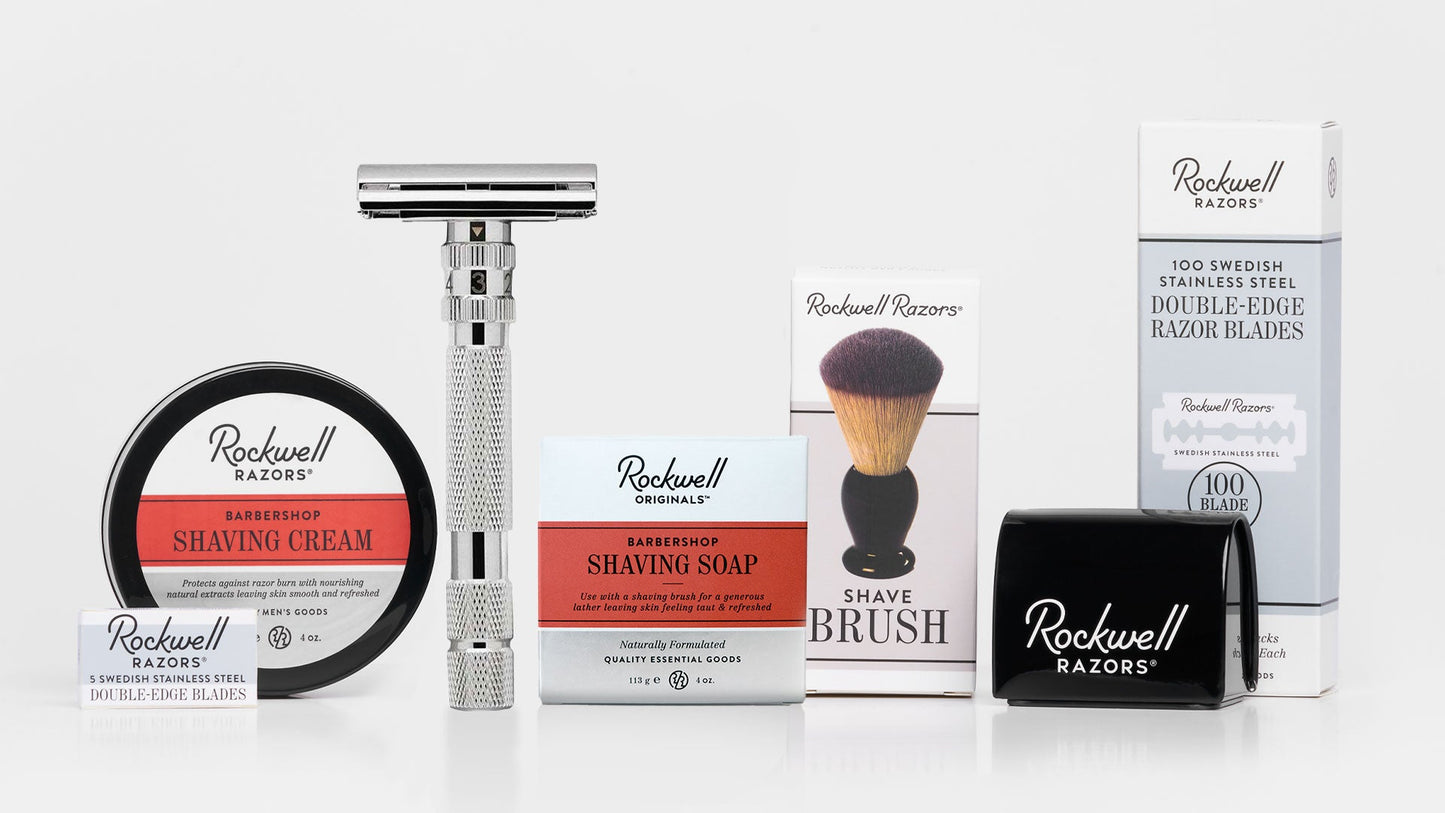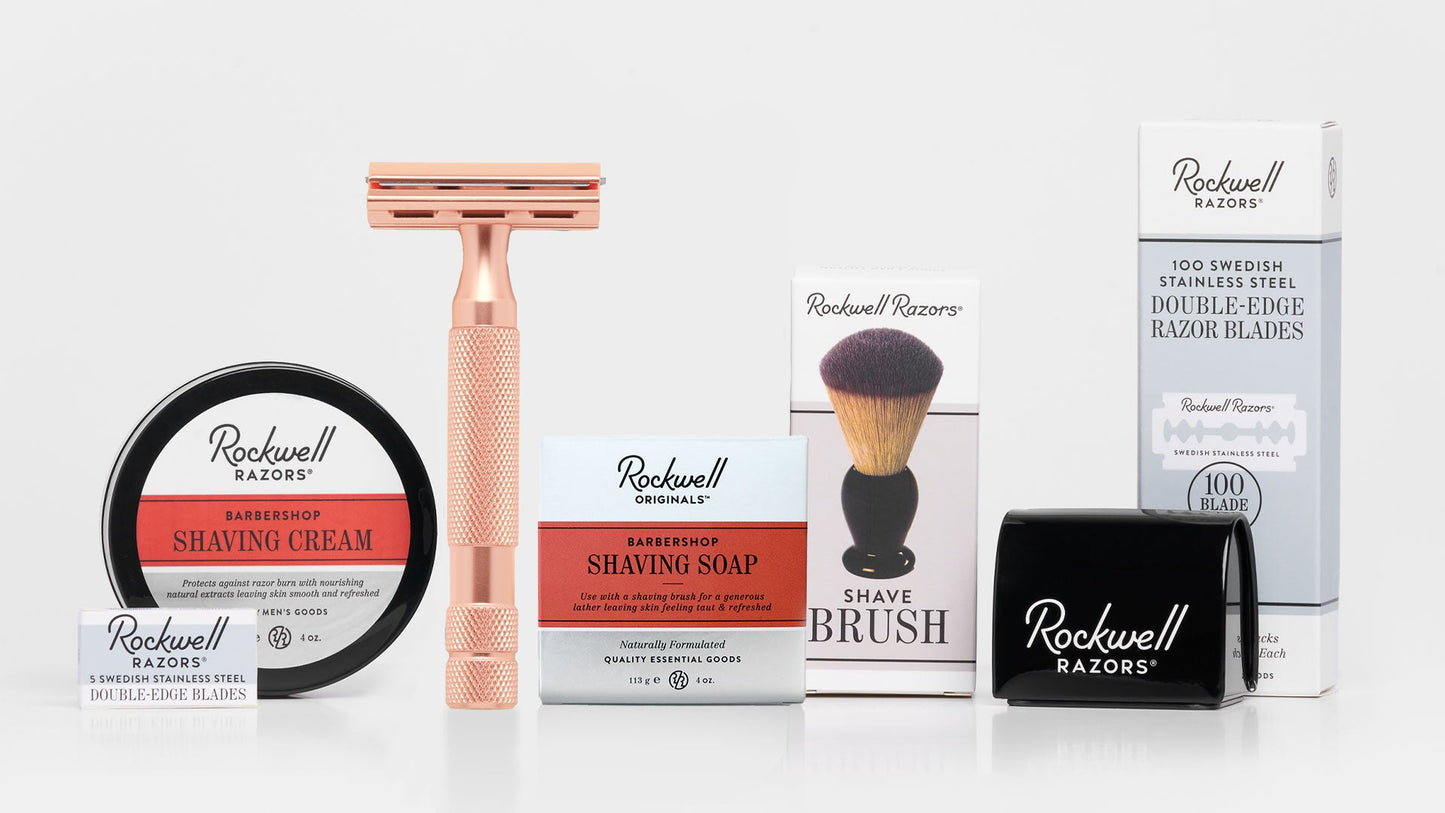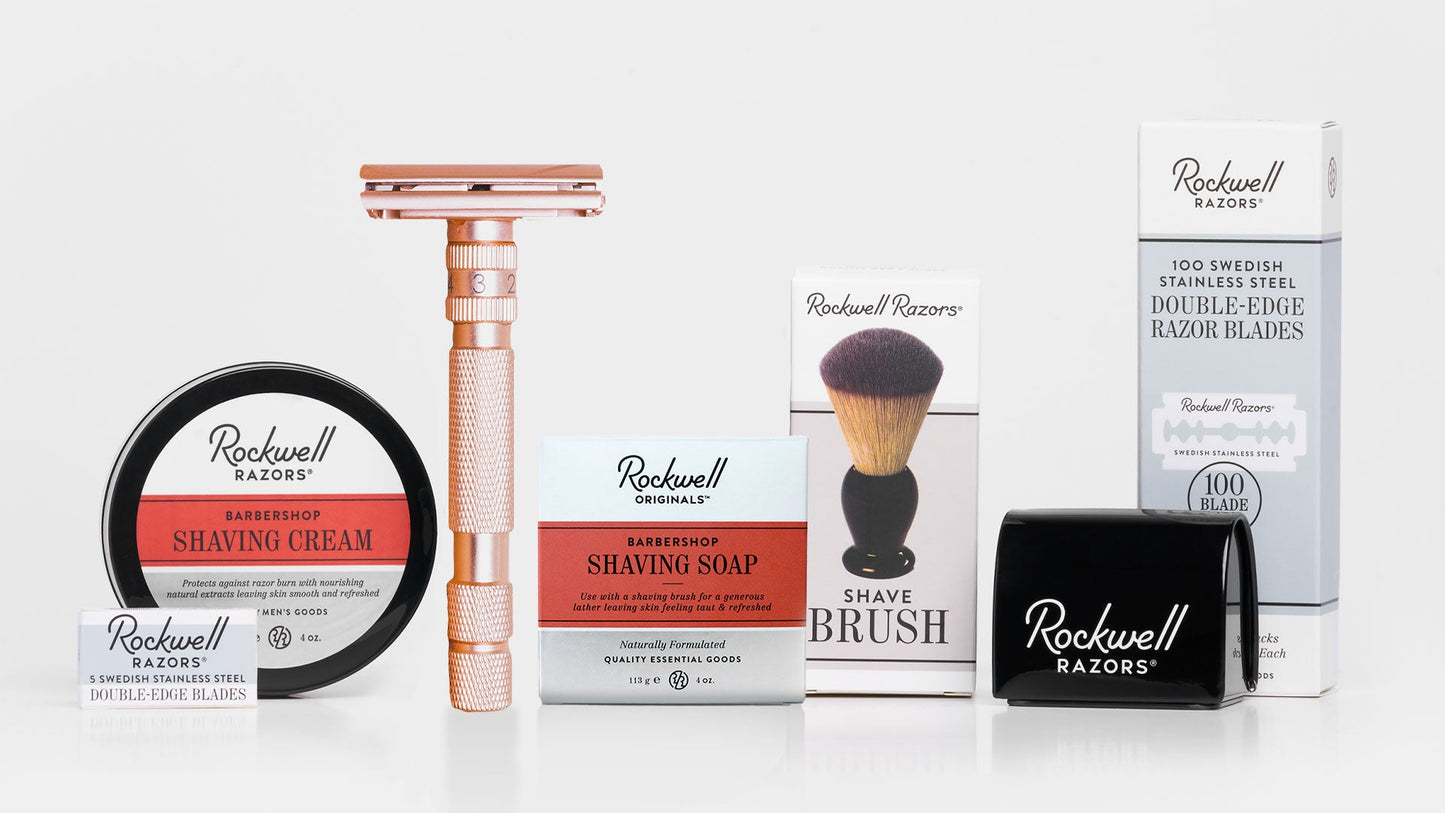 Collapsible content
Shipping & Returns

Free International Shipping

• Ships within 2 business days.
• Free returns within 60 days in the United States.
• 100% Quality Guarantee.
Buy Now, Pay Later

You can now pay in four simple, interest-free installments using Sezzle at checkout. Simply create an account for free and you will be able to spread your payment across 6 weeks!
Impressive.
I bought a cheap vanderhagen from Walmart to get my feet wet on double edge blades. I immediately noticed less tugging and no clogging with it. So after a few weeks I decided I could drop some money on a Rockwell. I just got it today and decided to step out of my comfort zone by shaving without taking a shower first. I have never in my life been able to shave without taking a shower first. I used the included Rockwell blades, slapped some Nivia sensitive can gel on, and got to it. I worked my way up to plate plate 4 which felt like the vanderhagen. This razor felt way more smooth on top of basically shaving dry. I bought a 200 blade sample pack but the included rockwell blades did a great job. I wonder if they will still be my favorite after I go through the sample pack but I would never be disappointed throwing another Rockwell in there. I will never use a cartridge razor again. I might pick up a brush and shaving cream but I don't see a point yet because I'm getting an awesome shave.
Great razor, needs a cover
Liking it so far but I'm so confused why it didn't come with some sort of cover so you can set it in the drawer without worrying about someone reaching in and getting sliced. The box is nice but it's a bit big for convenient storage, and it doesn't seem like it was intended to be used that way.
Why did I ever stop using a double edge razor?
After a couple of weeks of using the Rockwell 6S there's no going back to a electric razor or God forbid a multiple blade disposable. Using the Rockwell 6s and any number of higher grade DE safety blades there's no irritation, nor razor burn. I have super sensitive skin to the point where the only way to avoid the pain was to grow a beard. I'm using the Rockwell 6S using the #1 and #2 blade gap inserts and even using the sharpest razor blades ( the Feather ) I have not cut myself even once.....
Great razor
I made the move from cartridges to an Edwin Jagger DE86 9 years ago. I was impressed and only use cartridges if I have to fly somewhere. The black handle on the Jagger had started to crack, so it was time to upgrade. The Rockwell 6S is amazing. It has weight to it, making shaving easy. The adjustable base plates give flexibility to the shave aggressiveness I'm after. The handle has good texture so it doesn't slip. And being 316L (surgical) stainless steel, it will last a lifetime.
Quality Razor
I grew up using a safety razor (in the 70s), and much later switched to cartridge razors. I received a safety razor (from the Art of Shaving) as a gift about 15 years ago, and have used it off and on (more off than on because it tends to nick me). After seeing an add online for an injection razor, I began researching reviews of razors and decided to try the Rockwell 6S safety razor. I am currently using the R3 blade setting, and I have experienced zero nicks! I may move up to R4, and will probably stop there. I like the heft of the razor, letting its weight do the work for the most part. My kit came with five Rockwell razors, though I intend to try some Gillette Platinum blades I have when I change blades next time. I'm retired, so I shave maybe twice a week now rather than every day. Great razor! By the way, I love the aroma of the Barbershop Shaving Cream.
Best Razor
With the addition of the 6S I now have four DE safety razors and this one is by far the best. I use the #4 plate and in spite of the suggestion to use it every 3-4 days I use it every day with no issues. It shaves close and it is almost impossible to cut myself. Shaving has become something to look forward to. No need to ever buy another razor. Thank you Rockwell!
Great razor!
Best razor I've ever used!
Very Impressed
Can't believe I have been wasting time, money, and resources on environmentally detrimental plastic cartridges. I can customize my share and am finding fewer nicks/bumps than before.