Rockwell 6C All-In-One Shave Kit

Regular price

$ 103.25 USD

Regular price

$ 206.50 USD

Sale price

$ 103.25 USD

Unit price

per

Sale

Sold out
Regular price
$ 103.25 USD
Regular price
$ 206.50 USD
Sale price
$ 103.25 USD
Unit price
per
Sale
Sold out
Introducing the Rockwell 6C All-In-One Shave Kit, a revolutionary grooming solution designed to elevate your shaving experience to new heights of comfort, efficiency, and style. The Rockwell 6C razor, the centerpiece of this kit, is acclaimed for its adjustable settings, allowing a personalized shaving experience tailored to your skin and hair type.
The kit includes:
1 Rockwell 6C Steel Razor in White Chrome or Gunmetal Chrome: Designed to deliver a lifetime of incredible shaves, the Rockwell 6C is guaranteed to turn your shave routine into an experience you'll love and look forward to. 


1 Matching Razor Stand: Our Inkwell Stand is an elegant solution to proudly display your 6C Razor. These perfectly weighted Inkwell Stands are made from stainless steel, and coated to match the finish of your corresponding razor.


1 Natural-Formula Pre-Shave Oil: An essential first step for achieving an effortless, perfect shave. Rockwell Pre-Shave oil offers an unmatched natural formula that locks in moisture while protecting and nourishing your skin. 


1 Enriching Shave Cream: Our unique shave cream provides a superior lather that leaves your skin feeling taut and refreshed after every shave. We've enriched our formula with amazing natural oils and botanicals to soothe dry skin and help eliminate irritation.


1 Soothing Aftershave Balm: When added to your regimen, this post-shave balm soothes freshly shaved skin and hair, deeply nourishes and keeps skin looking and feeling healthy. Rockwell Post-Shave Balm is a key closing step to a proper shave, and will leave your skin feeling fantastic and smelling great all day.


1 Cruelty-Free Shaving Brush: Exceptional soft bristles with acrylic handle and no animal-derived components – the best tool to whip up a lather


100 Fully Recyclable Stainless Steel blades: Your 2-year supply of recyclable blades


1 Blade Recycling Tin: A safe, convenient way to dispose of used double-edge razor blades


1 Rockwell Alum Matches: Soothe skin and seal nicks after a fresh shave with our naturally astringent Rockwell Alum Matches. 
Share
View full details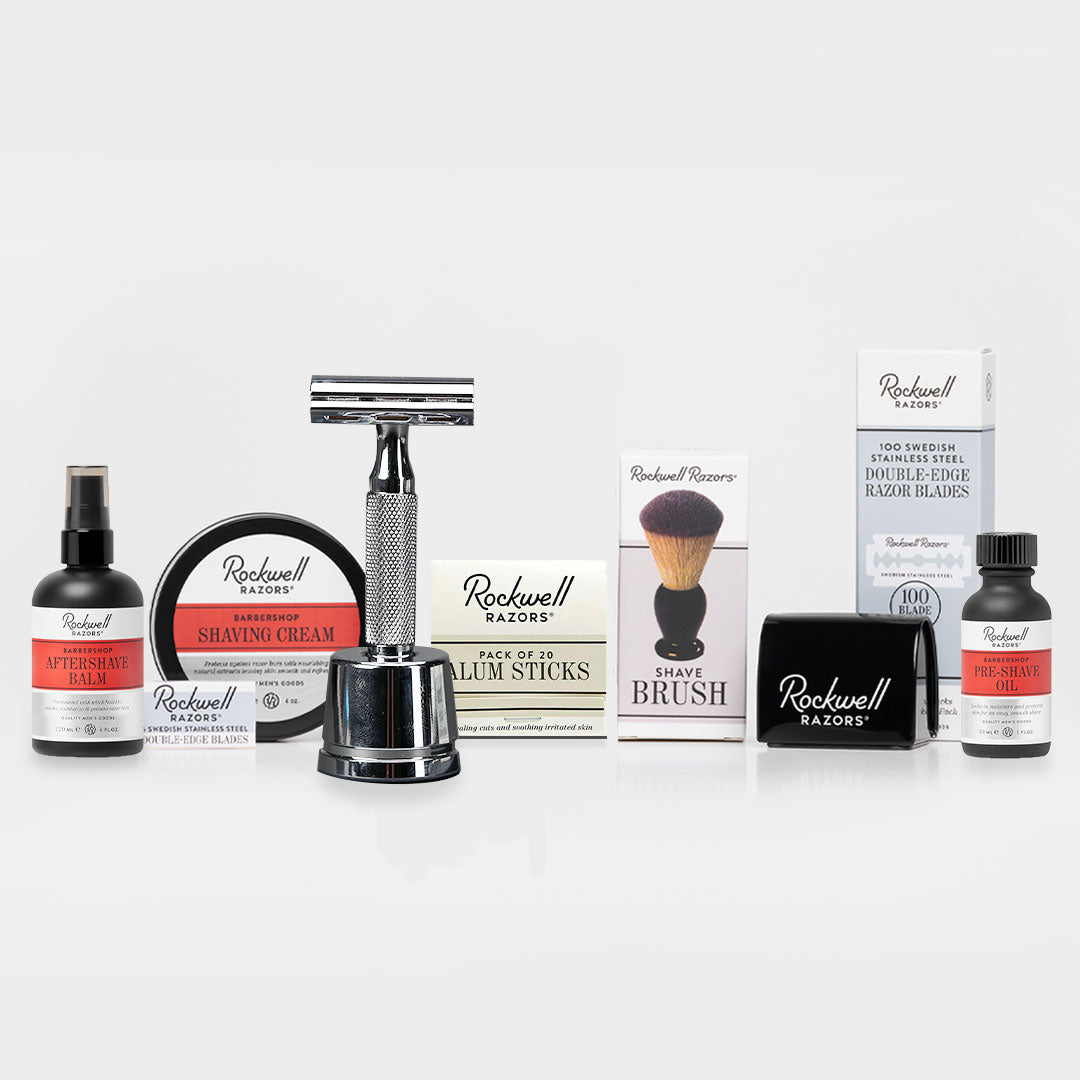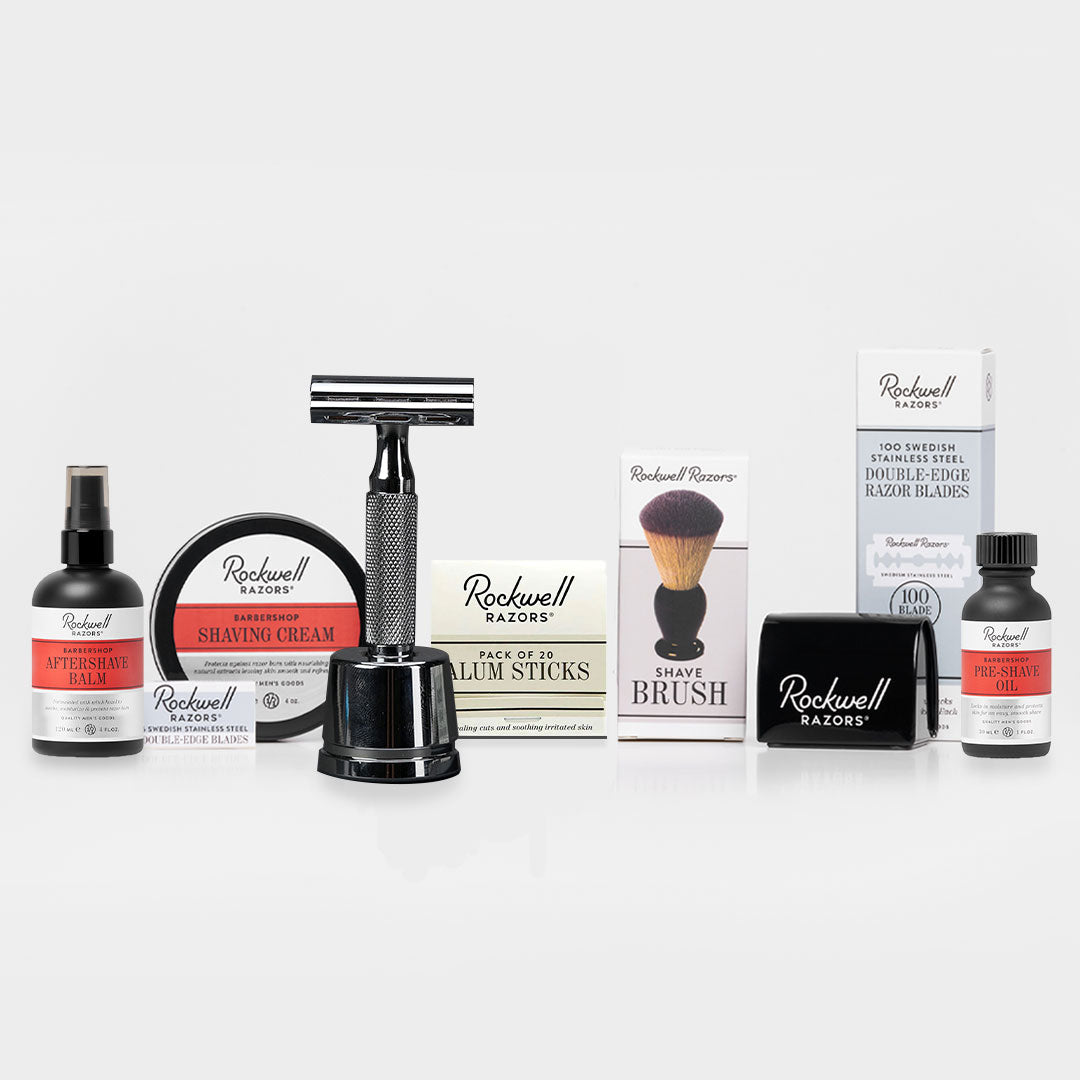 Rockwell Razors 6C 3-Piece Shaving Set
Had my best shave yet with this amazing razor. Thanks Ohio shaves for recommending this razor so much. Never would've thought I would love this razor this much. Money well spent.
Great quality razor
I've never been able to stay fully shaved, since I used to eat through disposable plastic razors so fast. I have been able to stay clean shaven for weeks, this was so worth the initial investment in a good quality product
Best shave ever
No I have not tried every razor on the market. I quit looking after trying this one. After my usual prep, I put in a new blade (Wilkinson) and started with R1. Shaved a little, and changed to R2, Then #3-5. Ran out of face before all settings tried. I settled on R5. Smoothest shave ever, BBS. No irritation or nicks, either. Yes, you have to turn base over or trade to another provided base to adjust, but no problem with non centered blade and it will ALWAYS hold adjustment. Period. Consistency my friend. Find what you like and keep it. I'm not a new shaver, just coming from straight razor country at 71.
Awesome Razor
I saw a bunch of reviews of the 6C online%2C and finally decided to try it. I switched from cartridge razors about 6 months ago and used a Leaf Twig. It's a great razor%2C but I wanted more. So%2C I bought the 6C and couldn't be happier. It has a nice feel. and gives BBS shaves consistently. I use it on the 3 right now%2C and am considering going to 4. Love this razor.
Excellent
Top notch razor. The adjustable option make it a great instrument for learning. Shaving cream gives a thick, smooth lather and the shaving brush very nice as well. I've heard great things on internet about the 6C and I concur.
Good enough
It takes time that get used to 6C razor after Mach 3, you also don't want to use Rockwell blades, they scratching and cutting skin, I use Gillette 7 o'clock instead.
Overall it is good, but I don't think it was worth switching.
Rockwell 6 c
Very nice razor ,
Very close shave !
Rockwell Razors 6C 3-Piece Shaving Set
It got here on time. It came in good condition. I've used it a few times already, and it works great. It's a great shave. The brush is good, and the stand is very handy.
6C - Great Shave, Lousy Finish
Over the course of 18 months bought two 6C's. Great shavers however the finish on the gold edition and gunmetal editions are real bad. Chrome finish is the only decent one. Top cap should be replaced on All 6C's except the chrome edition. Anybody else got this problem ? Mark J