Rockwell Barbershop Soft Goods Collection_Testv1

Regular price

$ 70.00 USD

Regular price

$ 70.00 USD

Sale price

$ 70.00 USD

Unit price

per

Sale

Sold out
Regular price
$ 70.00 USD
Regular price
$ 70.00 USD
Sale price
$ 70.00 USD
Unit price
per
Sale
Sold out
An incredible shave is all about the prep, and key closing steps. 
The ever-popular Rockwell soft goods collection features your choice of Rockwell Shave Cream or Classic Shave Soap, Rockwell Pre-Shave Oil, Rockwell Aftershave Balm and our Activated Charcoal Beard and Body Bar.
Your skin will thank you.
Rockwell Pre-Shave Oil is an essential first step for achieving an effortless, perfect shave. Our unmatched natural formula that locks in moisture while protecting and nourishing your skin.
Rockwell Post-Shave Balm soothes freshly shaved skin and hair, deeply nourishing and pampering to keep skin looking and feeling healthy. This natural balm will leave your skin feeling fantastic and smelling great all day.
Rockwell Beard & Body Bar Thoughtfully formulated to clean both skin and facial hair, the Beard and Body Bar uses premium jojoba oil, shea butter, and activated charcoal to leave your skin fresh and moisturized, while coffee acts as a natural exfoliant. A versatile, multi-purpose soap that leaves you smelling extraordinary.
Rockwell Shave Cream uses a thoughtful, glycerin-based formulation of natural ingredients and soothing oils to prepare even the coarsest hair for a close, quality shave. Our unique shave cream provides a superior lather that leaves your skin feeling taut and refreshed after every shave.  
Rockwell Shave Soap provides a fantastic lather and will leave your skin feeling taut and refreshed after every shave. Please note Rockwell Shave Soap requires a Shave Brush to create a lather 
Classic 'Barbershop Scent' with notes of Leather, Neroli, Anise, Lilac and Cedar
All natural ingredients, paraben and phthalate free.
Made in Canada: Rockwell Shave Cream, Rockwell Shave Soap, Rockwell Pre-Shave Oil, Rockwell Post Shave Balm
Made in USA: Rockwell Beard and Body Bar
Share
View full details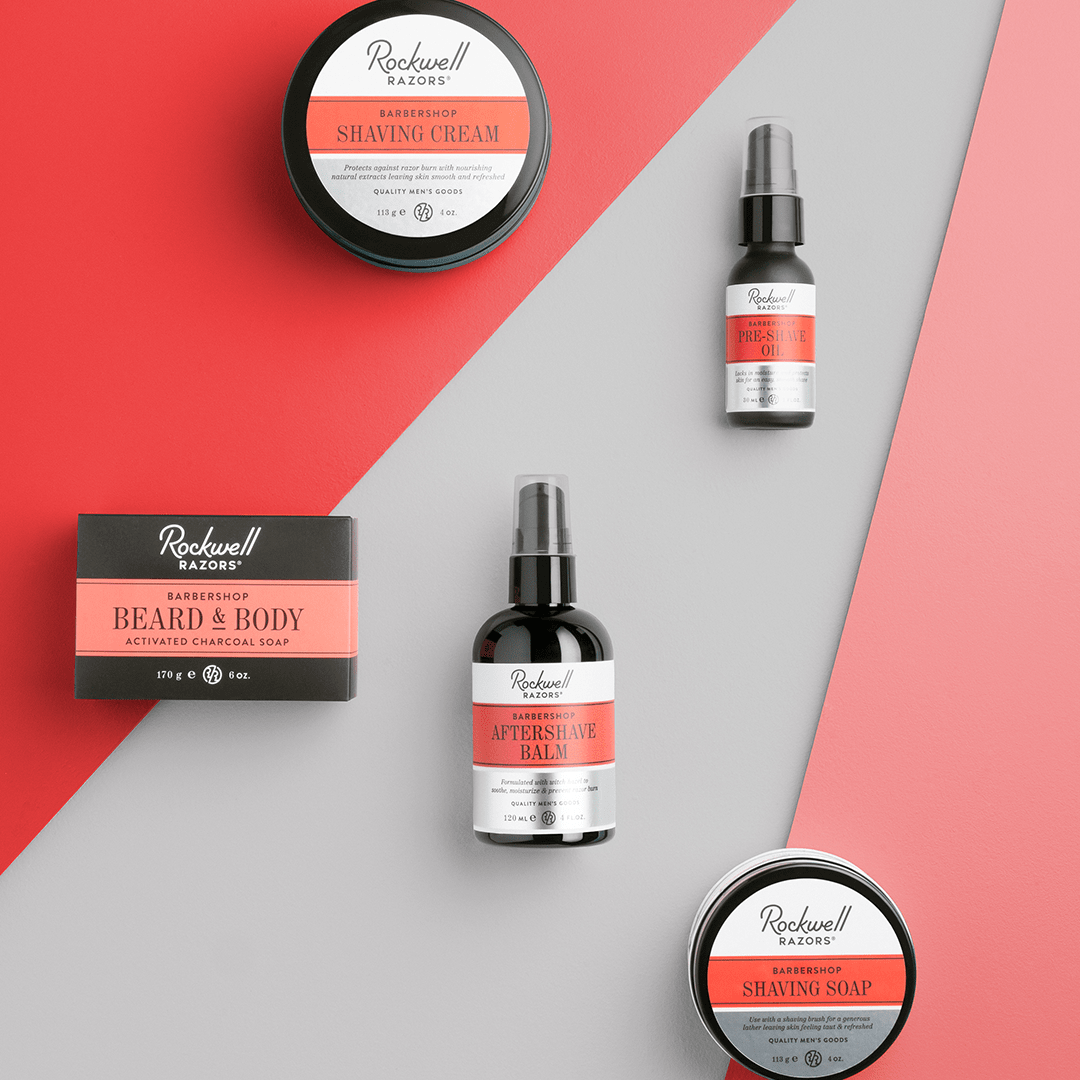 Barbershop Soft Goods Collection
Charcoal soap is just a miracle. The smell is such that it's impossible to let it out of your hands.
Soap and Cream are on top as always.
The only thing that caused the question was the oil before shaving. It's completely different this time. I can't explain, but it works a little worse than the one I bought before. I've postponed using it for now
Great pre-shave oil
The appreciate oil helps to soften the beard, and allows the razor to glide over the skin with less friction. I recommend this product.
Yes I really like it this is my 2nd order
After shave lotion
The best product I have ever used for my skin after shaving !! TheTop of the line !!
Soft goods collection
The oil, shave soap, and balm are all good.
Aftershave Balm
Outstanding product with great scent!
Oh Man!!
I bought this soap for my husband. Not only does he love it, but I do too!! It has a very nice and clean masculine smell. It makes a man smell like a man.
Love the Pre-Shave Oil
Makes the shave so much smoother. No more little wounds. Great smell too. Vegan. Love it.
Best Ever
I have been searching for this smell since the last time that I found a soap that had it in the UK. Kudos and brings back so many fond memories.
Decent pre-shave
I am just a few months into DE wet shaving so my review might show that. Been experimenting with pre-shave creams, Rockwell pre-shave oil and even olive oil! They all seem to work. The Rockwell smells the best. The cream (Poraso) seems to make a slightly more slippery surface and the Olive oil works like the Rockwell but doesn't smell as good! Still experimenting with blades and technique so time will tell. Got my son some beard oil so picked up another of the pre-shave oil as my spouse likes the smell.