Rockwell Aftershave Balm - Barbershop Scent 4oz

Regular price

$ 18.00 USD

Regular price

$ 20.50 USD

Sale price

$ 18.00 USD

Unit price

per

Sale

Sold out
Regular price
$ 18.00 USD
Regular price
$ 20.50 USD
Sale price
$ 18.00 USD
Unit price
per
Sale
Sold out
Carefully formulated and packed with natural ingredients like Shea butter, Coconut Oil, Argan Oil, Hemp Seed Oil and Jojoba to be both soothing and moisturizing for your skin. When added to your regimen, this post-shave balm soothes freshly shaved skin and hair, deeply nourishes and keeps skin looking and feeling healthy. Rockwell Post-Shave Balm is a key closing step to a proper shave, and will leave your skin feeling fantastic and smelling great all day.
Made in Canada using premium natural ingredients. 4 oz.
Ingredients: Stearic Acid, Witch Hazel, Shea Butter, Glycerin, Coconut Oil, Mango Butter, Argan Oil, Jojoba Oil, Hemp Seed Oil, Xanthan Gum, Cellulose, Phenoxyethanol, Fragrance.
Share
View full details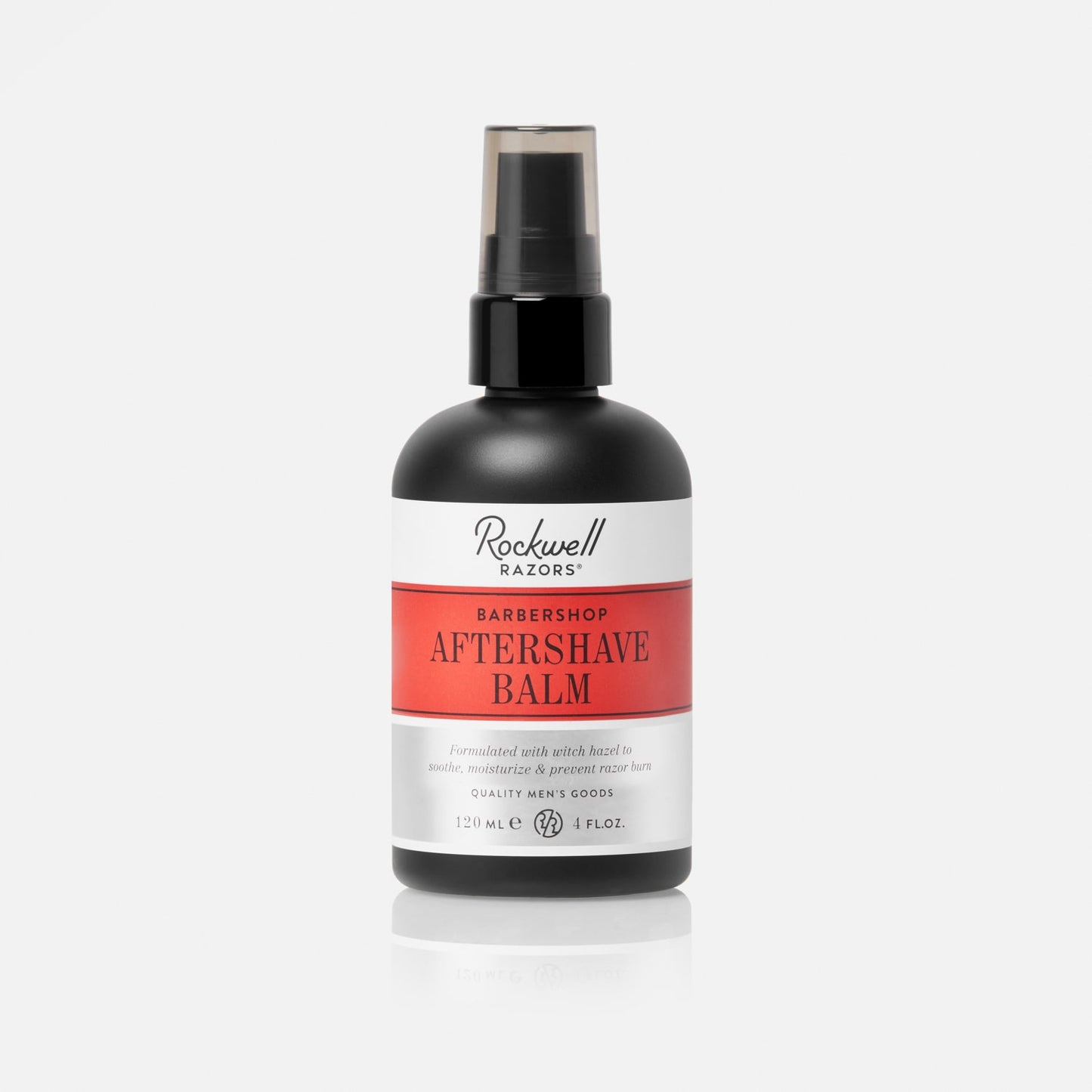 Great Aftershave Balm
This is a great aftershave balm that smells great and really seems to protect the skin. I actually use this as part two of my aftershave process. Once done shaving I do a splash of Clubman Pinaud and once dry I apply this Rockwell aftershave for a great result.
Excellent!
Very smooth and soothing, you almost look forward to shaving.
Great balm and my wife loves the fragrance!
I have been using this balm for 3 years now. It's absolutely great. Applies easily. Makes my face feel awesome and my wife loves the fragrance. Not too strong!
Great pre-shave oil
The appreciate oil helps to soften the beard, and allows the razor to glide over the skin with less friction. I recommend this product.
Soothing Aftershave
Very creamy and smooth but not greasy. Nice subtle aftershave scent. Great for mornings and scent free offices. I also want to add that I have been using Rockwell razor blades and they are phenomenal quality. I am currently doing a comparison of various blades, and Rockwell is definitely a contender for the top place regardless of which one of my DE safety razors I use. Fantastic new in an open-comb DE for shaving dense multi-day growth. Efficient and mild on my sensitive skin in a solidbar safety razor for multiple daily shaves. Can't wait to try the shaving soap I purchased!
Yes I really like it this is my 2nd order
After shave lotion
The best product I have ever used for my skin after shaving !! TheTop of the line !!
Smell Like a Man
Feels smooth and refreshing. And my wife says it makes me smell like a man...
Aftershave balm
Feels good on the skin after one shaves. Good scent.
Aftershave Balm
Outstanding product with great scent!