Rockwell 5/6 Plate - Gunmetal

Regular price

$ 18.75 USD

Regular price

Sale price

$ 18.75 USD

Unit price

per

Sale

Sold out
Regular price
$ 18.75 USD
Regular price
Sale price
$ 18.75 USD
Unit price
per
Sale
Sold out
Replacement Rockwell R5/R6 Base Plate in Gunmetal. Only Suitable for Rockwell Gunmetal Series Razors.
Share
View full details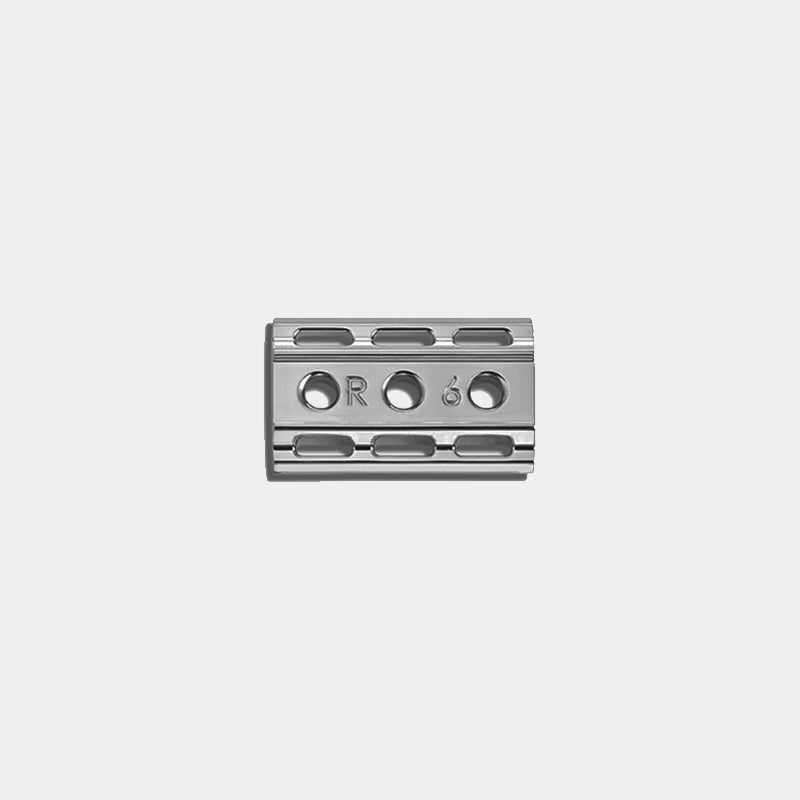 Getting full value out of 2S and Rockwell Plate Patent.
I am relatively new to DE shaving. The 2S provided me with the perfect starter razor. (I owned one competing razor, the Henson which I actually love.) It shaved pretty well but I really wanted to also try a more aggressive shave and get full value out of the Rockwell interchangeable plate patent.
This plate provides an enjoyable shave which I probably use about once a week. I am still adjusting my shaving routine but this razor plate is a must own for anyone who is a relative beginner and owns a 2S but really wants to know what the "fuss" is about with respect to upping their DE shave.
Awsom adjustment system
I purchased both plates to convert my 2C rockwell to the 6C and although more expensive to do it this way, cheaper than buying a new 6C. The plates were the same colour and works perfectly to fine tune my daily shave. Worth the cost and definitely makes the shave smooth and easier to get the closeness I like in a shave.
Awesome
If I could pick only one razor to use , this would be it !!!!
Customer service is awesome!! Thank you for an great razor!! Love it!!!
Would buy again in a heartbeat!
Purchased a 2c razor. Absolutely loved it but found it was not as aggressive enough of a shave as I tend to have alot of beard growth. The 5/6 plate was a god send and couldn't believe Rockwell not only sold it but for a reasonable price also.
The gun metal finish is the same as my razor and my only regret was not buying the 6c outright as it's cheaper than the sum of all parts buying separately. I fell for the "buy this for beginners" advice I rather than go with the majority who say all they use is the #5. Bottom line a $10 plate gave me the versatility and upgrade to what is perfect for me - that is until my Gun metal T2 ships out this week hopefully as it was out of stock forever. Thank you Rockwell for the amazing Black Friday deal on it and for making me a customer for life. PS keep your vision & don't ever change or lower your standards. You make good quality products which easily get lost in today's markets with others
Good rescue
If you cheaped-out and bought the 2C when you should have bought the 6C, Rockwell has you covered by selling the other plates. Generally, this adjustable razor system is less aggressive than other razors out there and having only the 1/3 plate was very limiting; I couldn't get a close enough shave even when I did 3 passes with the 3 plate. Now, I'll go with the grain on 6, across the grain on 4, and against on 2.
Start with the 6C
I haven't actually used the 5/6 plate yet, but having used the other two plates, maybe I can at least give an opinion. I'm one of those people who started with the 2C. You know where this is going. Long story short; then I had to have the 2/4 plate. Then why not get the 5/6 and have the whole set. This system is fantastic. It will tame the harshest of blades, which for me is the Crystal. I used the two plate for that and it's BBS with two passes with no irritation. These people have totally figured out the angle, gap, and exposure geometry of a razor. My only regret is that I didn't start with the 6C in the first place.
Love it
Went 'inexpensive' originally and bought the 2c. Added the 5/6 for my first pass and now realize that my next gift to myself will be a 6s. This is fantastic.