Rockwell T2 All-In-One Shave Kit

Regular price

$ 206.50 USD

Regular price

$ 295.00 USD

Sale price

$ 206.50 USD

Unit price

per

Sale

Sold out
Regular price
$ 206.50 USD
Regular price
$ 295.00 USD
Sale price
$ 206.50 USD
Unit price
per
Sale
Sold out
Looking to upgrade your shaving routine? Our All-In-One Rockwell T2 shaving kit has you covered. Right from prepping your skin to the actual shave to post-shave care, this kit has everything you to take your shave to the next level! 

The kit includes:
1 Rockwell T2 Razor: Featuring a twist-to-open mechanism and

fluidly adjustable shave settings, the T2 is guaranteed to give you a great shave, every single time. 

 


1 Matching Razor Stand: Our Inkwell Stand is an elegant solution to proudly display your 6S Razor. These perfectly weighted Inkwell Stands are made from stainless steel, and coated to match the finish of your corresponding razor.


1 Natural-Formula Pre-Shave Oil: An essential first step for achieving an effortless, perfect shave. Rockwell Pre-Shave oil offers an unmatched natural formula that locks in moisture while protecting and nourishing your skin. 


1 Enriching Shave Cream: Our unique shave cream provides a superior lather that leaves your skin feeling taut and refreshed after every shave. We've enriched our formula with amazing natural oils and botanicals to soothe dry skin and help eliminate irritation.


1 Soothing Aftershave Balm: When added to your regimen, this post-shave balm soothes freshly shaved skin and hair, deeply nourishes and keeps skin looking and feeling healthy. Rockwell Post-Shave Balm is a key closing step to a proper shave, and will leave your skin feeling fantastic and smelling great all day.


1 Cruelty-Free Shaving Brush: Exceptional soft bristles with acrylic handle and no animal-derived components – the best tool to whip up a lather


100 Fully Recyclable Stainless Steel blades: Your 2-year supply of recyclable blades


1 Blade Recycling Tin: A safe, convenient way to dispose of used double-edge razor blades


1 Rockwell Alum Matches: Soothe skin and seal nicks after a fresh shave with our naturally astringent Rockwell Alum Matches. 
Share
View full details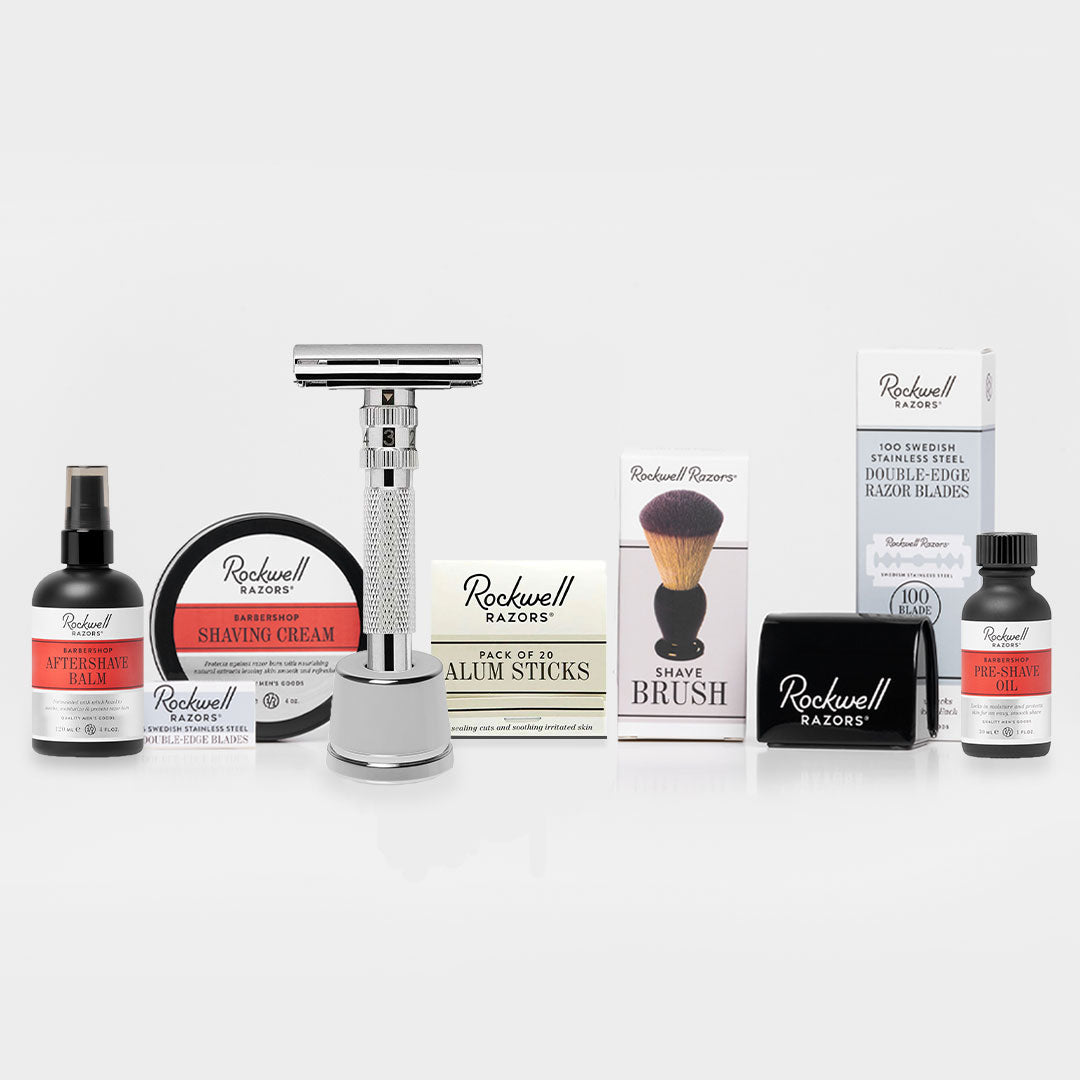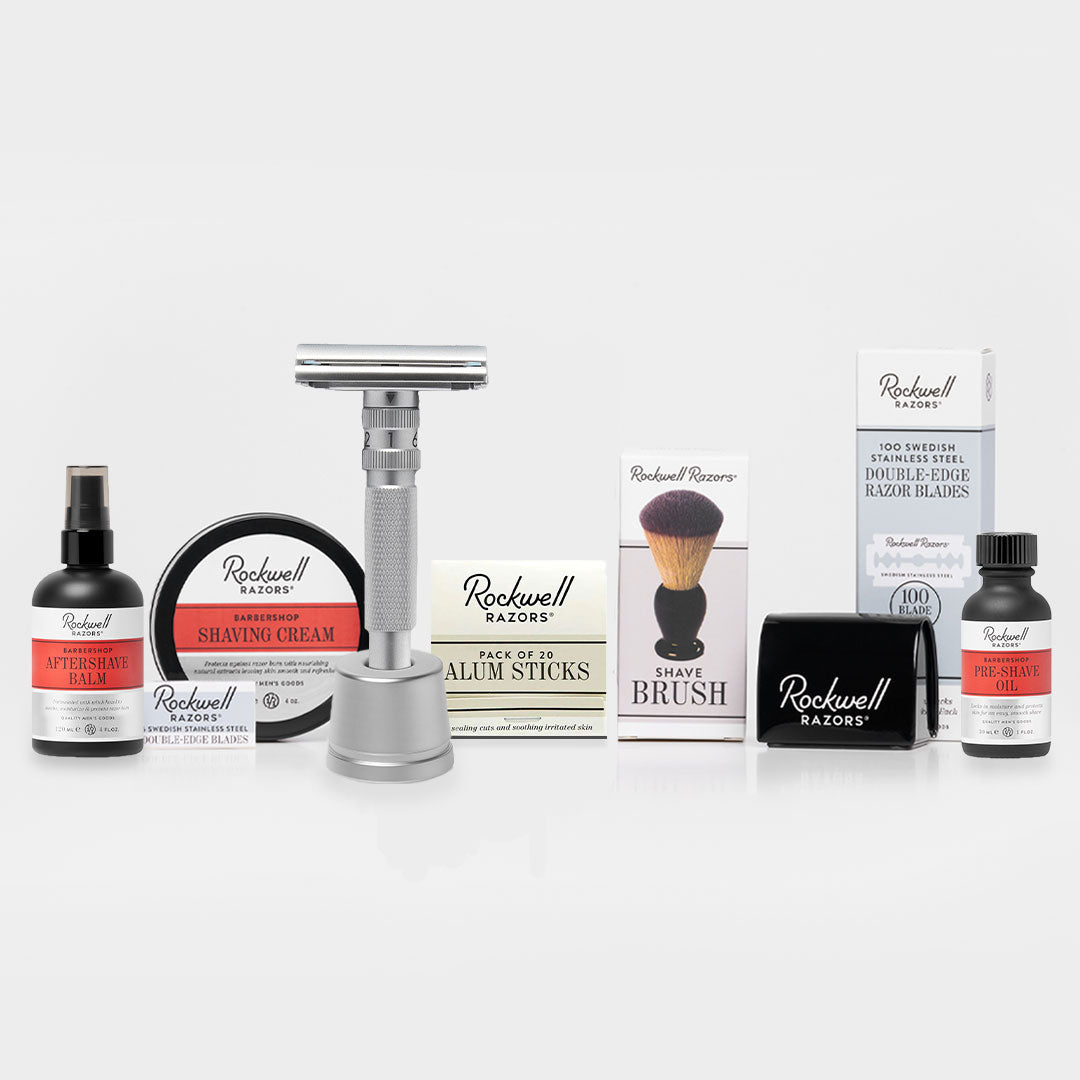 After use on Rockwell T2
Totally satisfied with the performance of the razor and suggested the content of the pre-shave oil should be in a bigger volume.
Rockwell razor T2. My experience
Having used other razors before I got my T2 after a friend suggested it. What can I say the T2 razor is a category by itself , light years ahead from previous razors I have used. Smooth and well controlled shaving depth allows a comfortable experience. Shiny chrome never gets dirty. Top of the line. Well done Rockwell razors !!
T2
Just...WOW! This razor is a supercar in the shaving world. Easily adjustable, and the smoothest shave I have ever experienced.
The best razor, is one you use. I used mine till it broke.
This comm no one started on Kickstarter. When I invested I wanted to get out of the disposable market. The best move I could make. New products have their flaws and this razor succumb to a weak part. The warranty kicked in. I had a replacement shipped to me. Great company, amazing products. I'll be using this till I can't.
Nice razor
Using for 3 weeks now, took a couple attempts to get comfortable as the feel was different from my old safety razor. Happy to say I really like the T2, it has some weight making the movement very smooth. The adjustment option seems good although I mostly stay on 3, perhaps after a week of growth it would be nice to use higher adjustment. Clasp for blade works great.
Best People to Deal With
This is my third razor, hopefully I don't do something stupid to it (again) and break it. Rockwell have been nothing but awesome to deal with and have kept me shaving despite my best efforts!
Replacement
Like a couple of others on here, my first T2 was giving me rough shaves (3 setting)….leaving my face very irritated. Turns out it was uneven blade gap with one side being more aggressive than the other. I contacted Rockwell with pics of the gap differences…and they agreed…and sent me a brand new T2 that was perfect. The difference in shave quality is like night and day. This T2 is rapidly turning into my preferred razor because of the TTO and adjustability features. My other razors are a 6S, 6C, and Gillette Slim. My blade rotation is Feather, Nacet, Astra SP, and Voskhod…..with Proraso shave cream and Simpson T3 brush. In conclusion…I am a loyal Rockwell customer and admire them greatly for their great customer service. They sure treated me right on this T2 initial problem.
Incredible mild adjustable
The butterfly/Twist to Open mechanism makes this such a dream to use. No fidgeting around with opening and locking in a two or three piece.
The adjustability range is all fairly mild. You don't get a lot of blade feel, and and the cross bar under the blade is fairly protective. Its a fantastic feel. Very smooth. It gums up a bit quickly with foam so it takes more frequent washing, but its a really nice shave. The edge glides across your face, and the burnished finish makes it very smooth.