Rockwell 6S All-In-One Shave Kit

Regular price

$ 185.50 USD

Regular price

$ 265.00 USD

Sale price

$ 185.50 USD

Unit price

per

Sale

Sold out
Regular price
$ 185.50 USD
Regular price
$ 265.00 USD
Sale price
$ 185.50 USD
Unit price
per
Sale
Sold out
Looking to upgrade your shaving routine? Our All-In-One Rockwell 6S shaving kit has you covered. Right from prepping your skin to the actual shave to post-shave care, this kit has everything you to take your shave to the next level! 

The kit includes:
1 Rockwell 6S 100% Stainless Steel Razor: Crafted from pure stainless steel and designed to deliver a lifetime of incredible shaves, the Rockwell 6S is guaranteed to turn your shave routine into an experience you'll love and look forward to. 


1 Matching Razor Stand: Our Inkwell Stand is an elegant solution to proudly display your 6S Razor. These perfectly weighted Inkwell Stands are made from stainless steel, and coated to match the finish of your corresponding razor.


1 Natural-Formula Pre-Shave Oil: An essential first step for achieving an effortless, perfect shave. Rockwell Pre-Shave oil offers an unmatched natural formula that locks in moisture while protecting and nourishing your skin. 


1 Enriching Shave Cream: Our unique shave cream provides a superior lather that leaves your skin feeling taut and refreshed after every shave. We've enriched our formula with amazing natural oils and botanicals to soothe dry skin and help eliminate irritation.


1 Soothing Aftershave Balm: When added to your regimen, this post-shave balm soothes freshly shaved skin and hair, deeply nourishes and keeps skin looking and feeling healthy. Rockwell Post-Shave Balm is a key closing step to a proper shave, and will leave your skin feeling fantastic and smelling great all day.


1 Cruelty-Free Shaving Brush: Exceptional soft bristles with acrylic handle and no animal-derived components – the best tool to whip up a lather


100 Fully Recyclable Stainless Steel blades: Your 2-year supply of recyclable blades


1 Blade Recycling Tin: A safe, convenient way to dispose of used double-edge razor blades


1 Rockwell Alum Matches: Soothe skin and seal nicks after a fresh shave with our naturally astringent Rockwell Alum Matches. 
Share
View full details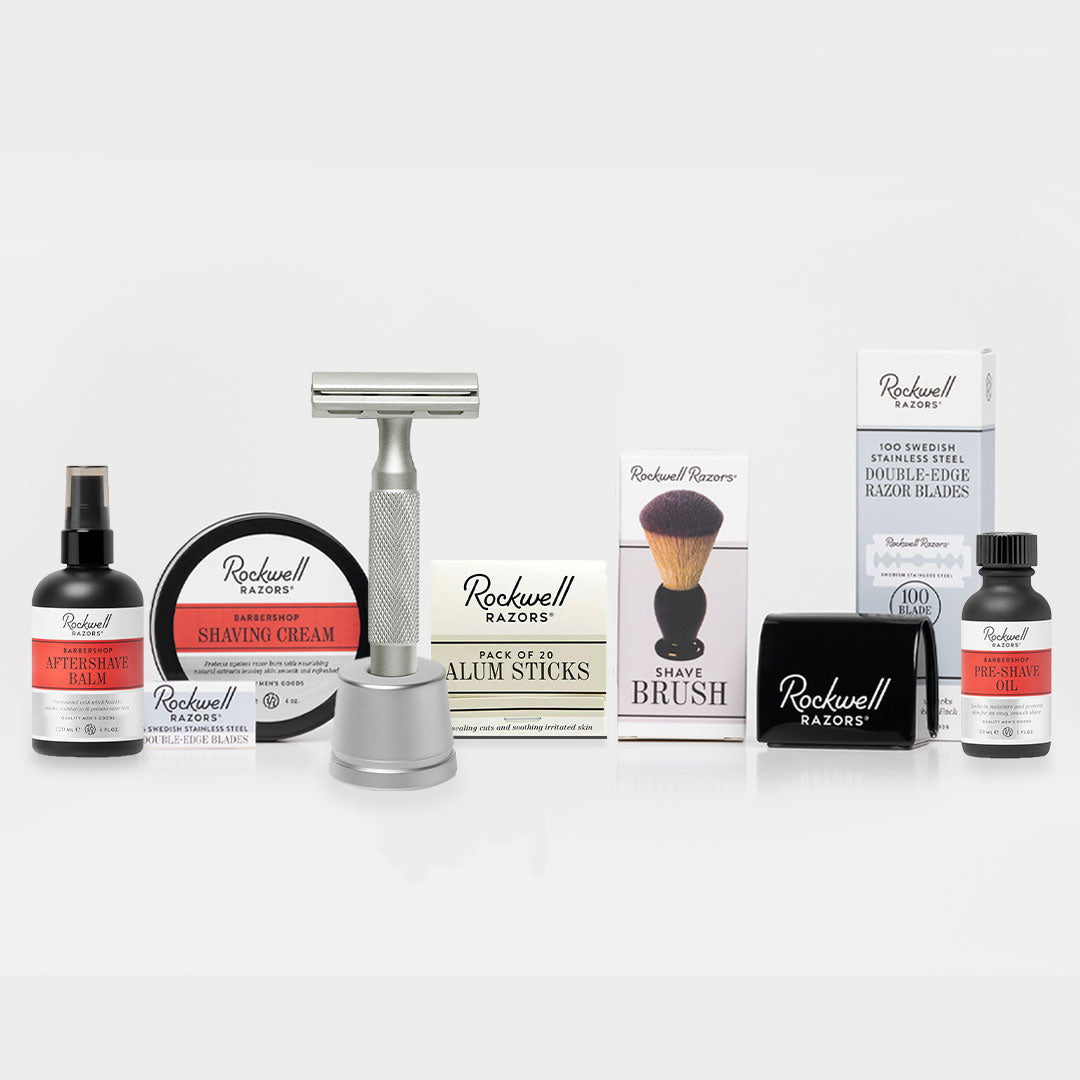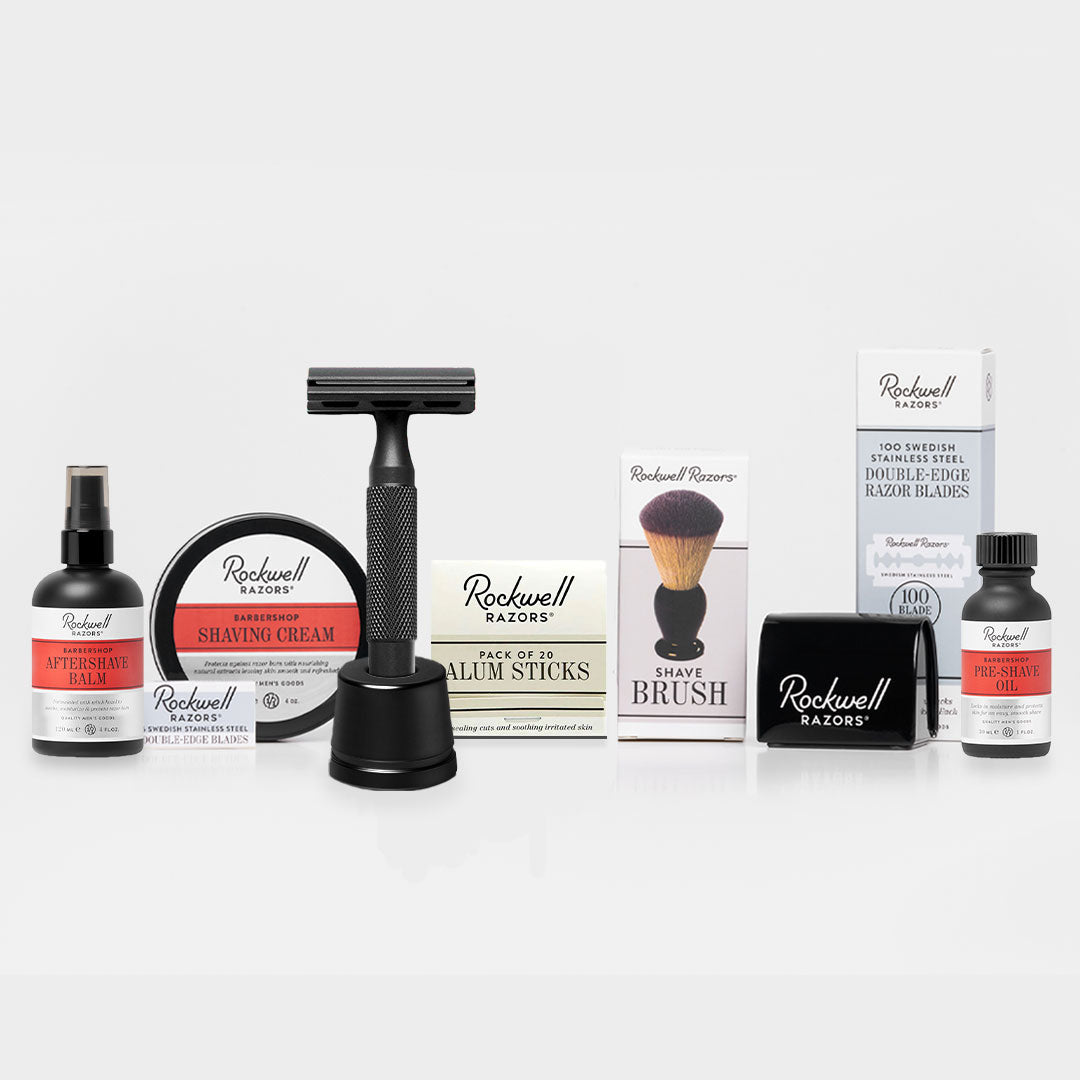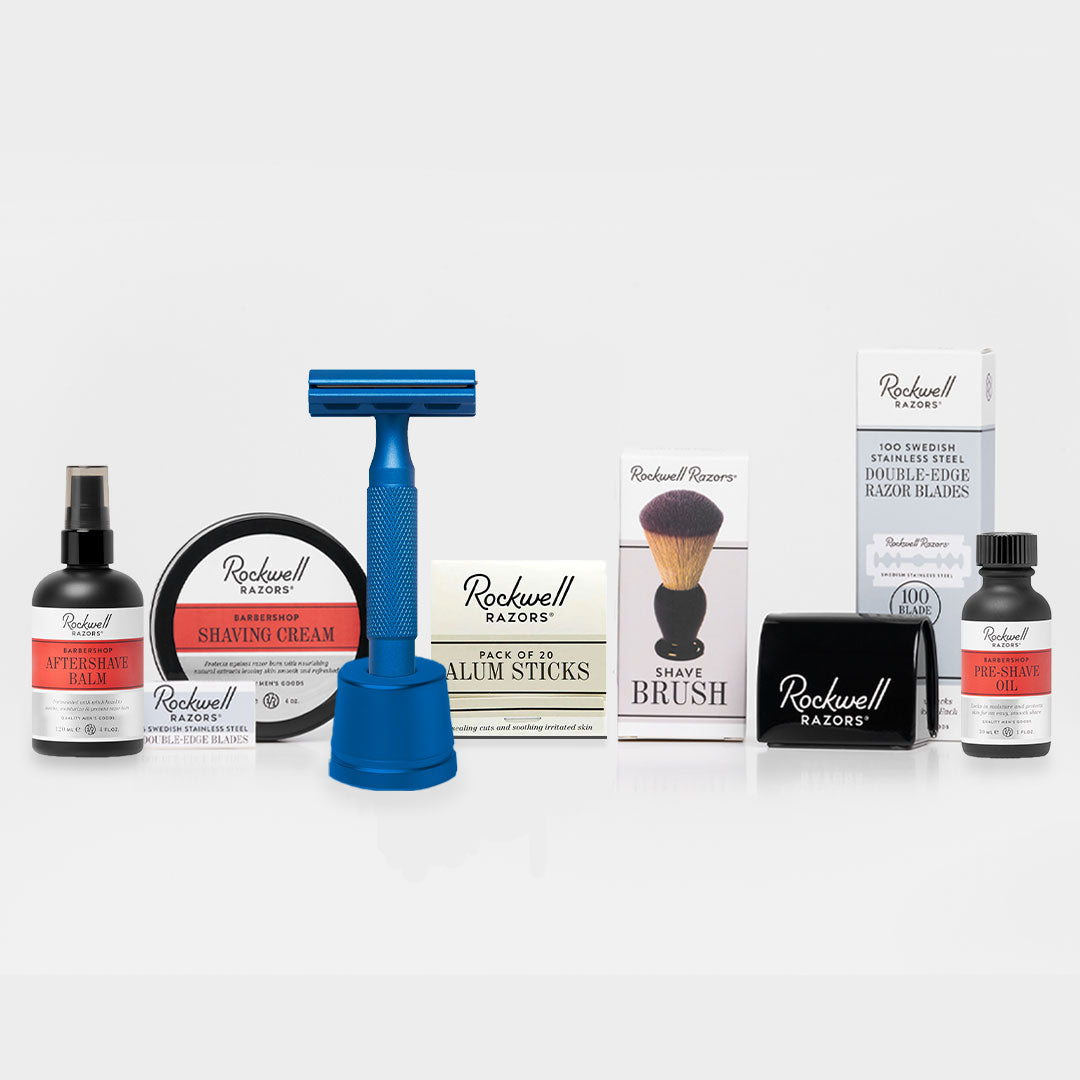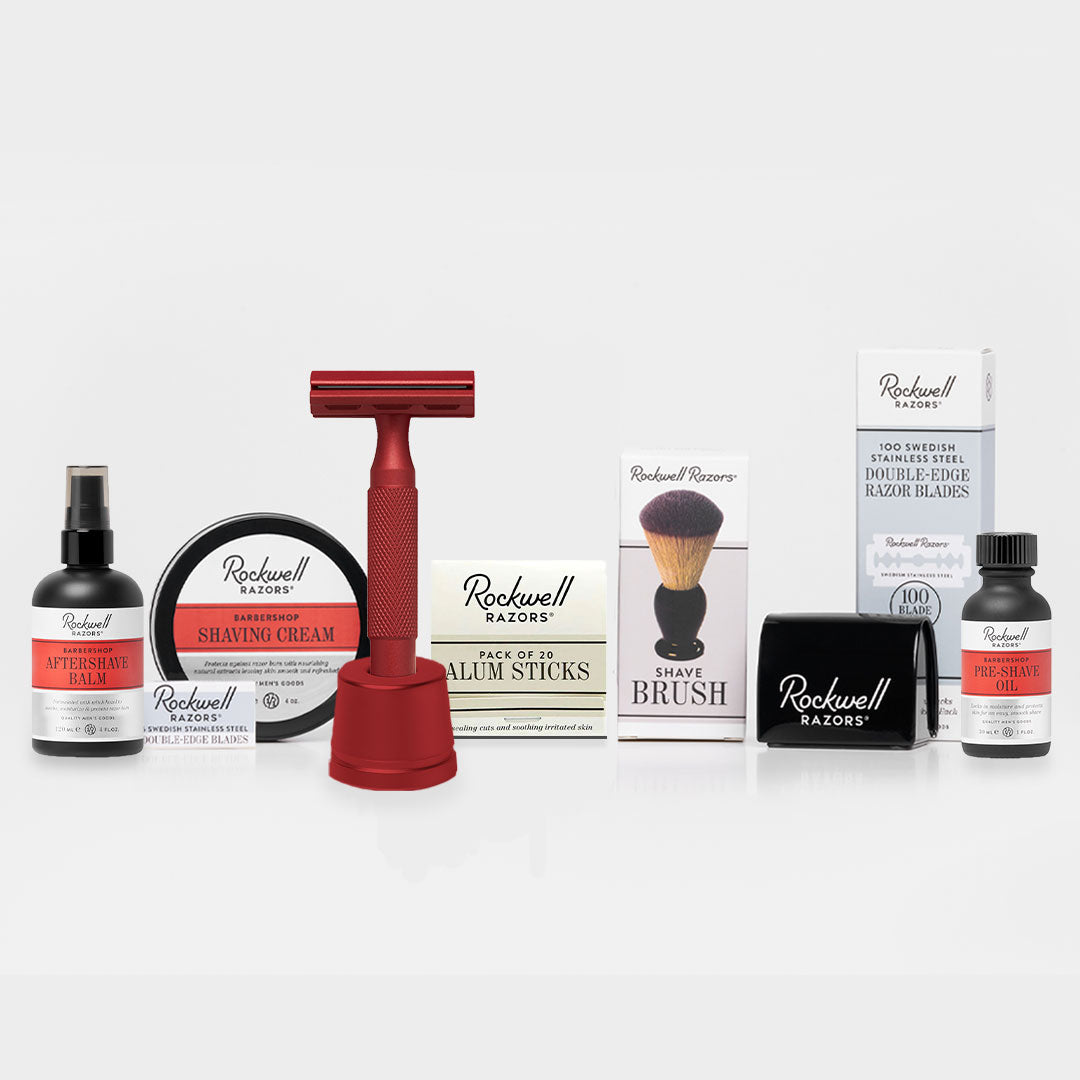 Rockwell 6S All-In-One Shave Kit
Great
my daily shaver, i can shave with it in my sleep.
Straight to the top of my rotation...
Using DE safety-razors since I was 15 (1981, if you must know). Coarse beard, maybe average density (I get a five-o'clock shadow around five o'clock, not lunchtime or bedtime). Prone to ingrown hairs and razor burn with subpar blades. Feather and Kai are go-to blades. Have had many razors from every major brand and some boutique brands.
Enjoyed the earlier 6C model for years, especially on days I didn't have time for a slow and careful shave. Drove like a well-engineered, well-built, reliably predictable sedan. Bit bulky at the head for under the nose (a minor quibble compared to its many virtues). Not as nimble as a sports car, but that wasn't the 6C's aim. Easy shaving, seemed impossible to cut myself. Perfect razor to pass along to my son when he started shaving. He loves it.
Same idea in stainless, with a less chunky head? Yes please. I got the 6S in red.
Nice presentation box—
Wait. The red is different than on the website. Closer to a vibrant burgundy. Truly stunning to look at, even better than Rockwell's photos. Stylish with the matching stand. I could look at this thing all day. Feels great in the hand. Love the texture of the deep red finish. Excellent knurling.
48 hours since my last shave. Which baseplate? Went with #5 and a Feather blade. The 6S offers great feedback. Handle much grippier than the 6C, which wasn't lacking (better grip than even the Feather AS-D2). Rock-steady when wet. I once cut myself when a heavy, smooth-handled adjustable razor rotated in my soapy hand — that'll never happen with the 6S. Handle also has plenty of girth. Much appreciated. Dimensions and balance are perfect. Head is thin enough to get under my nose. One pass WTG, second pass XTG. So smooth there was no need for a third. Switched to the #2 plate for a few quick cleanups. No blood, no irritation, no drama. And no ingrown hairs the next day. Fantastic shave.
And have I mentioned that the 6S is beautiful?
Finally, top-notch customer service. Had a problem with delivery (courier's mistake, not Rockwell's). Rockwell jumped right in and fixed it fast.
Impressive.
I bought a cheap vanderhagen from Walmart to get my feet wet on double edge blades. I immediately noticed less tugging and no clogging with it. So after a few weeks I decided I could drop some money on a Rockwell. I just got it today and decided to step out of my comfort zone by shaving without taking a shower first. I have never in my life been able to shave without taking a shower first. I used the included Rockwell blades, slapped some Nivia sensitive can gel on, and got to it. I worked my way up to plate plate 4 which felt like the vanderhagen. This razor felt way more smooth on top of basically shaving dry. I bought a 200 blade sample pack but the included rockwell blades did a great job. I wonder if they will still be my favorite after I go through the sample pack but I would never be disappointed throwing another Rockwell in there. I will never use a cartridge razor again. I might pick up a brush and shaving cream but I don't see a point yet because I'm getting an awesome shave.
Replaced Merkur 34C
Great weight, adjustable and corrosion resistant. Big step up.
Slides less easily on the skin than the 6S
The black 6s razor slides less easily on the skin compared to the 6c. Otherwise they are functionally exactly identical.
Everything they said it would be...
Solid, perfect in every detail. Excellent shave. Fits in your hand like a fine tool. Extraordinary.
Great upgrade
Great razor so far. Bought to replace the Merkur 23C that I used for seven years. It feels a lot safer and easy to use compared to the Merkur with the adjustable heads. I use it for underarms, legs and haven't nicked myself once. Would recommend to any other ladies starting out with using safety razors.
Great razor, needs a cover
Liking it so far but I'm so confused why it didn't come with some sort of cover so you can set it in the drawer without worrying about someone reaching in and getting sliced. The box is nice but it's a bit big for convenient storage, and it doesn't seem like it was intended to be used that way.