Rockwell 2C 3-Piece Shaving Set

Regular price

$ 92.00 USD

Regular price

$ 102.00 USD

Sale price

$ 92.00 USD

Unit price

per

Sale

Sold out
Regular price
$ 92.00 USD
Regular price
$ 102.00 USD
Sale price
$ 92.00 USD
Unit price
per
Sale
Sold out
Rockwell's ingenious shaving system allows any beginner to start shaving with a double-edge razor with zero nicks of cuts, while effortlessly achieving a barber-grade shave. This patent-protected adjustable razor guarantees your most comfortable shave ever, no matter your skin or hair type. 
Upgrade your bathroom counter with this striking 3-piece set. Each razor includes a beginner blade angle setting (R1) that makes it impossible for you to cut yourself, while still getting a close, clean shave. Say goodbye to razor burn and ingrown hairs for good and say hello to the closest, smoothest shave of your life. 
Comes with Razor, Shave Brush, Stand and 5 Rockwell Razor Blades.
Looking for just the stand? Get the Rockwell Universal Shave Stand here.
Covered by our Lifetime Warranty
Free Shipping 
• Eliminates shaving irritation and in-grown hairs for a close, comfortable shave, every time.

• Setting 1 (R1) Makes it impossible for a beginner to cut themselves shaving.

• Choose between a Rockwell 2C White Chrome or Gunmetal Chrome (features 2 of the most popular adjustable shave settings)

• Cast from premium high-end chromed zinc alloys with a striking White Chrome finish.

• Perfectly weighted and balanced through unparalleled craftsmanship for intuitive handling and effortless glide.

This striking white-chrome 3-piece set adds a touch of elegance to bathroom counter-top. Display your Rockwell Razor and brush proudly with this balanced and substantially weighted Rockwell Razor stand. Just like all our products, this display set was thoughtfully-designed with the user in mind and crafted to last for life.

Designed in Canada.

• 1 Adjustable Rockwell Double Edge Safety Razor

• Rockwell Razors Synthetic Shave Brush

• Rockwell Razors 3-Piece Weighted Stand

• 5 Rockwell Swedish stainless steel razor blades

• Handle with a deep knurled grip for no-slip shaving

• A lifetime of incredible shaves
Share
View full details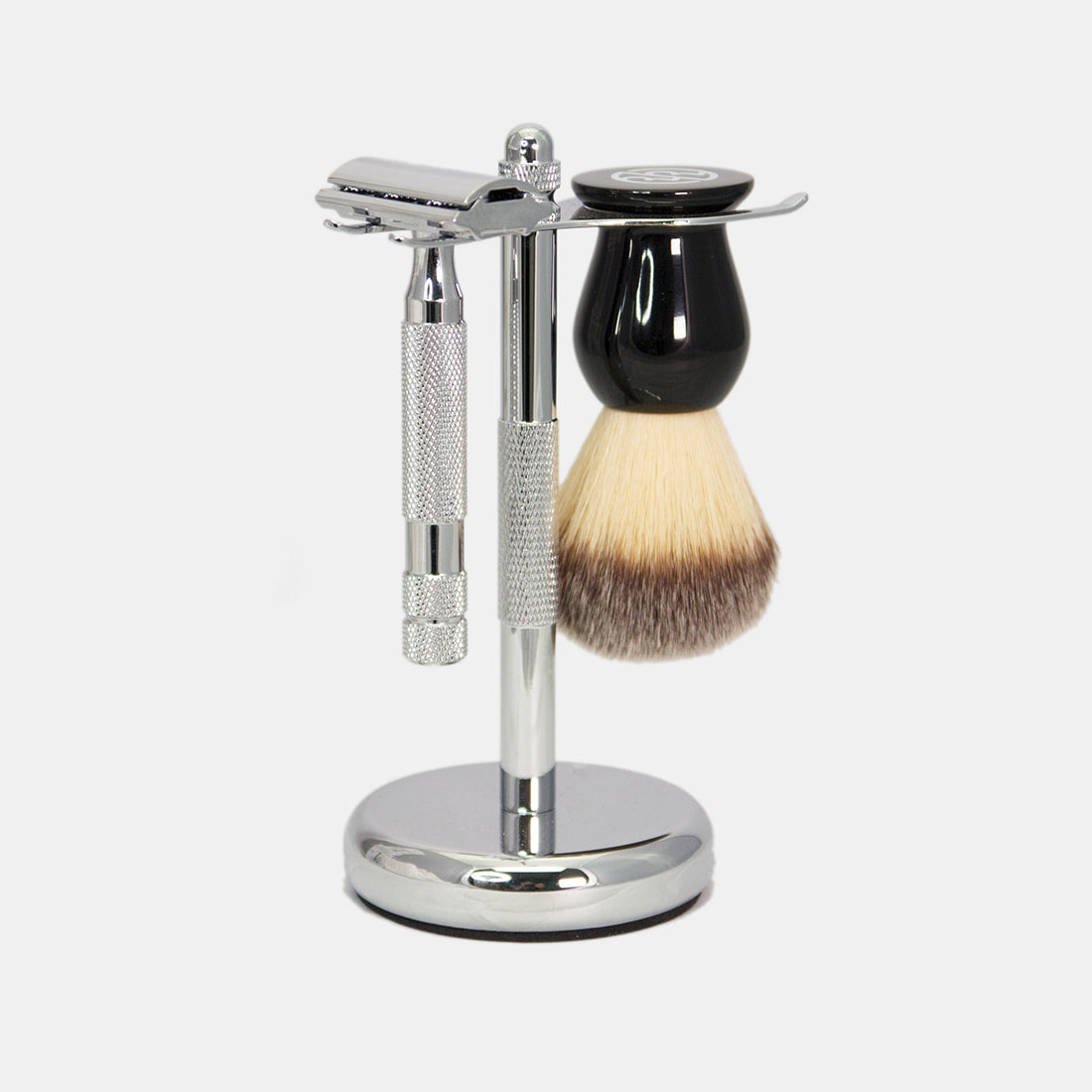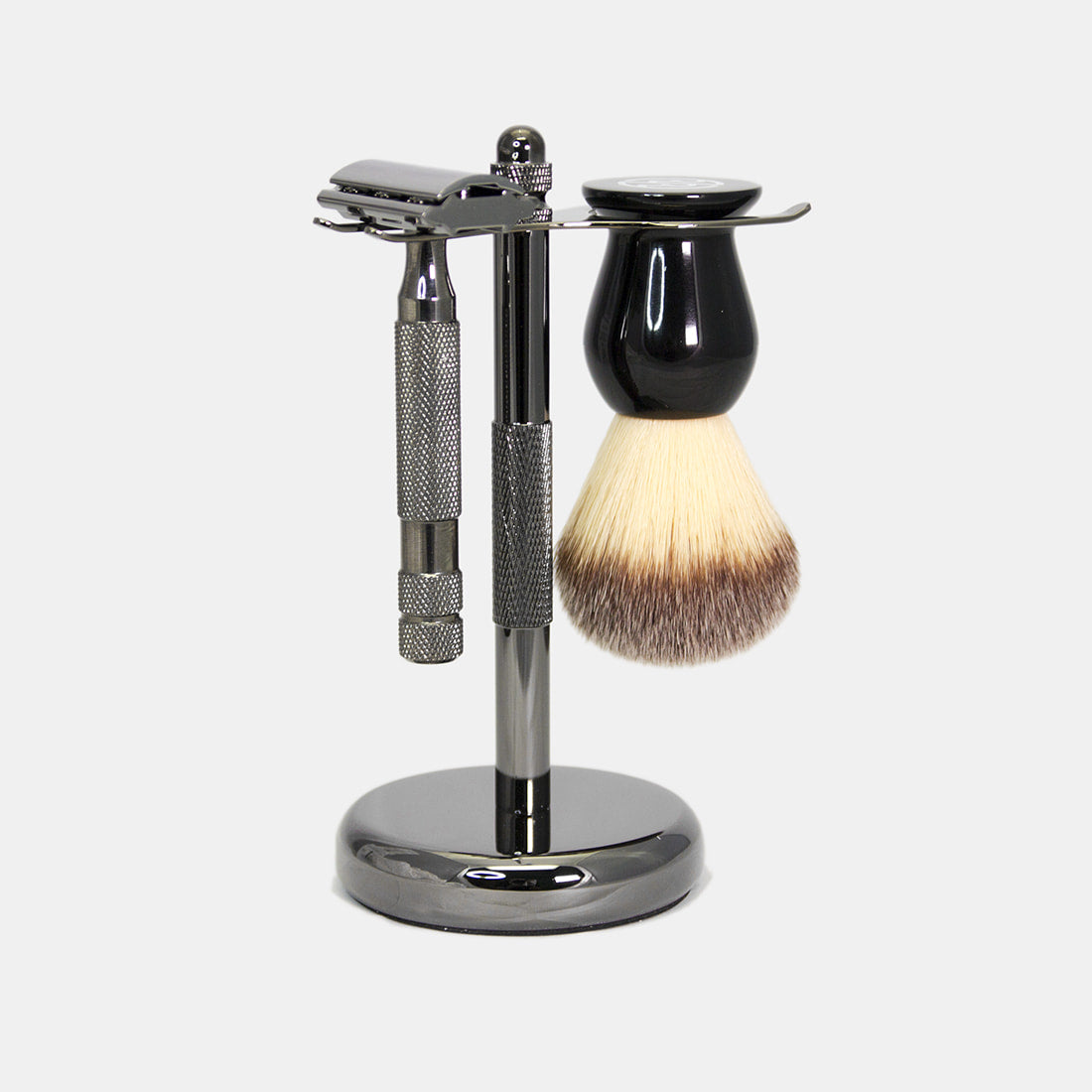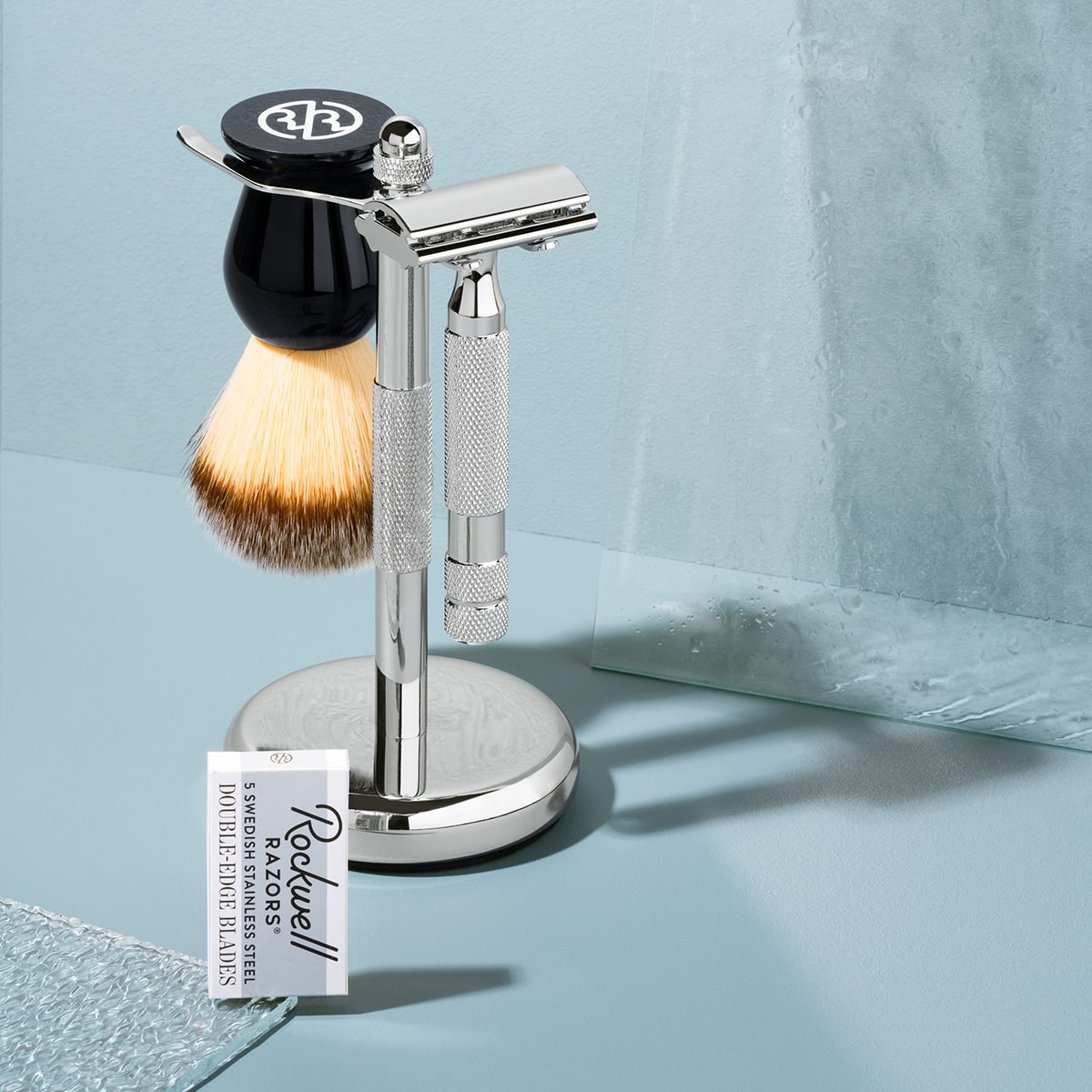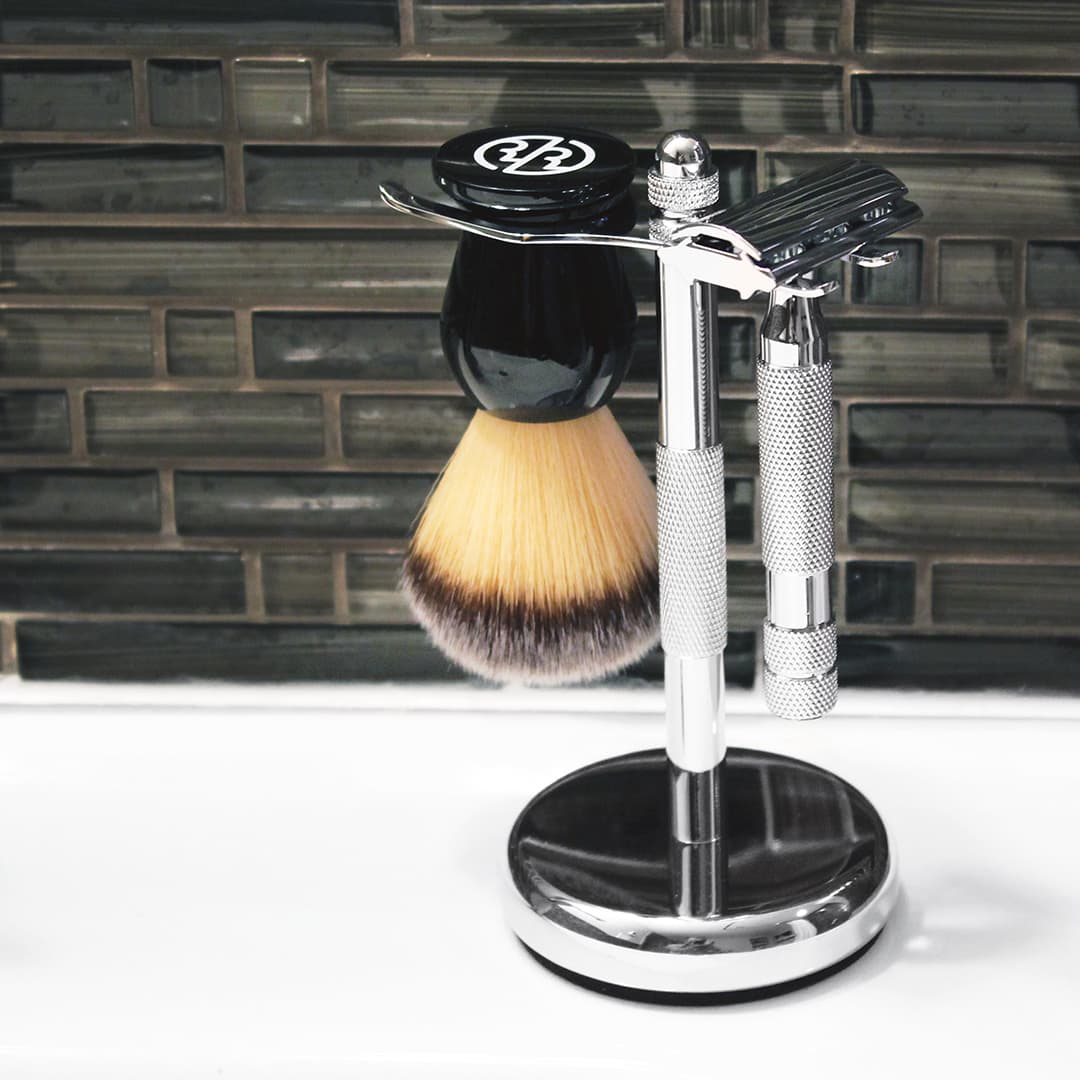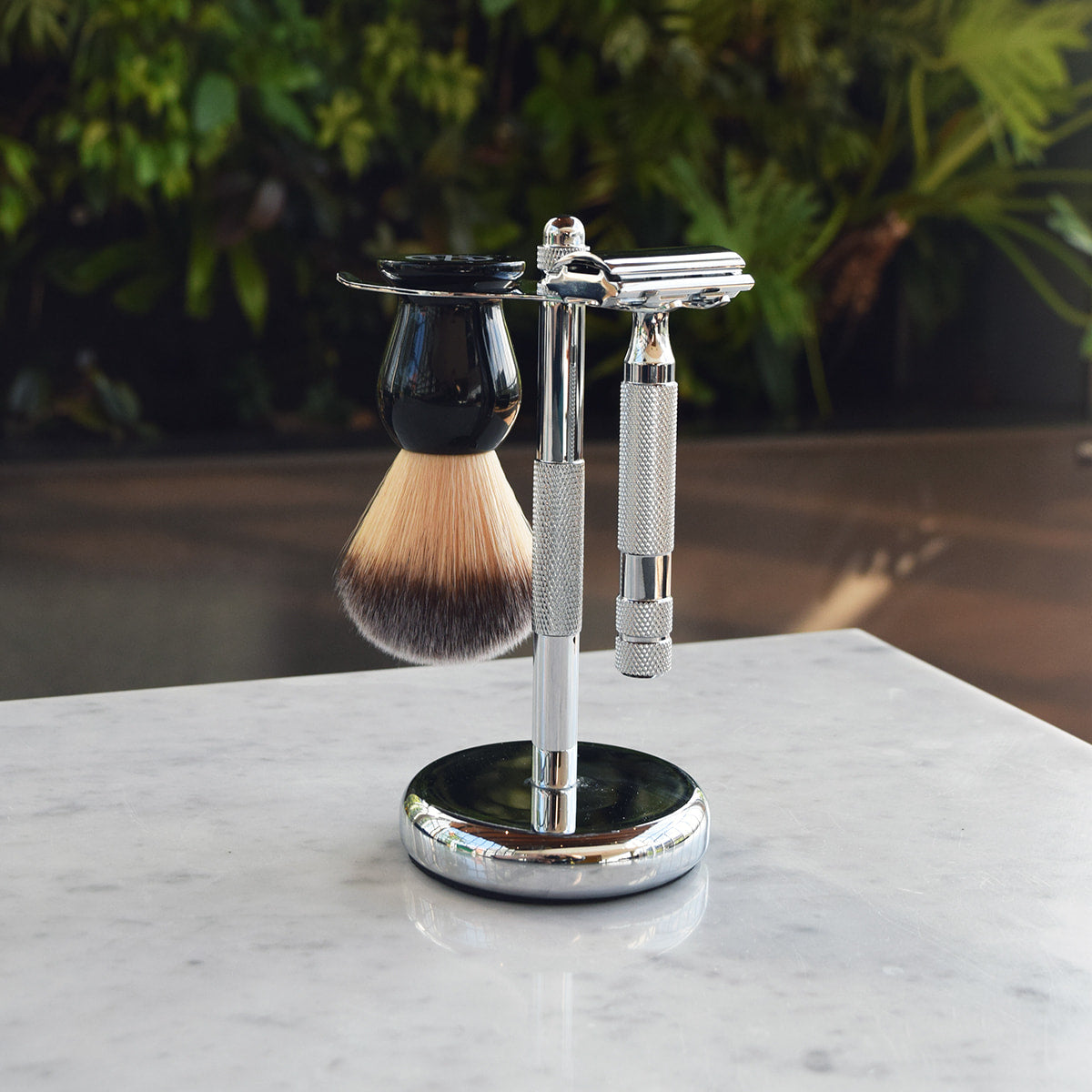 Rockwell 2C 3-Piece Shaving Set
Perfect gift, don't forget that, you get what you pay for.
Perfect
I love this and alaways look forward to using it. It is my go to.
Thx
First DE Razor purchase.
It seems that as I aged it became much harder to get a close shave without irritation. I had been using both cartridge systems and electric shavers. I got interested in DE razors from You Tube Videos and the 2C 3 piece set seemed like a great deal and great warranty. Only about 20 shaves in and still learning but I love the kit and am already getting excellent shaves!